The phonebook is touch sensitive too
The phonebook of the Samsung Armani phone looks the same as the one on previous Samsung phones. However, there is a new touch-centric row on the bottom, which allows you to perform the regular phonebook operations easily - call, send message, delete or send business card are all a single touch away.
The capacity of the phonebook itself is 1000 contacts with multiple fields. It can be set to display the names on the phone memory or on the SIM card, or both lists simultaneously. To search the phonebook you need to toggle the alphanumeric keypad and type the first letters of a contact's name. You can only search by first name, although you can choose to order the contact list by last name.
A large variety of fields is available for each contact. Furthermore, you can add each field more than once, which allows you to add up to 5 numbers per contact.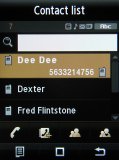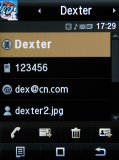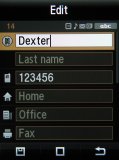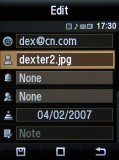 Contacts list • previewing a contact • editing a contact
It goes without saying that different ringtones and pictures can be assigned to each contact.
Finally, we ought to mention that contacts can be organized in groups or sent via Bluetooth. The groups can also have their own ringtone or picture but unluckily there is no option for call filtering based on existing groups.
The Call log has four tabs with the Recent contacts being the default one. Each type of call gets a separate tab too, plus there is also a message and a wireless data counter.
As far as call managing is concerned, you can blacklist certain numbers and thus reject all their calls and messages.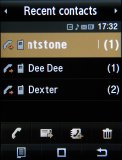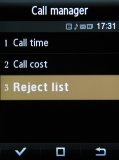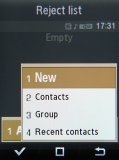 Recent contacts list • adding numbers to the reject list
We bet messaging makes you curious
The Samsung Armani phone handles all four popular types of messages: SMS, EMS, MMS, and email. A single editor is used for creating the first three, while emails have their own. Messages are converted from SMS to EMS or MMS by simply applying font colors or formatting, or by inserting an image.
Entering text is quite intuitive - a single tap on the field highlights it, then a second one invokes the on-screen keypad. As you might have guessed, a rich T9 dictionary is also present here to help with text input.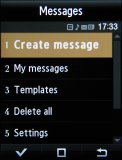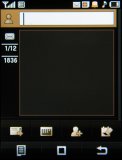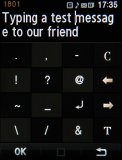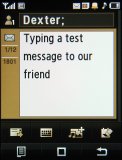 Messaging menu • starting a blank SMS • typing away • ready for sending
The email client is relatively good. It can manage up to five accounts - POP or IMAP; download is user-defined, opting between headers only and entire messages. Not only any files from the phone memory, but also business cards, calendar events, tasks or notes can be emailed as attachments. The email client has a rather fancy semi-transparent file browser used for attaching files to email.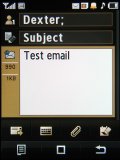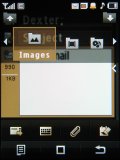 Writing an email • attachments have their own semi-transparent file manager
The SOS message feature is also present in Samsung Armani. It allows quick sending of emergency messages to pre-defined numbers. Recipient numbers should be preset (a max number of 5). The text of your SOS message is not configurable. To send an actual SOS message you should just press the volume rocker 4 times.
Another security enhancing feature in Samsung Armani is the Mobile Tracker (previously known as uTrack). Its purpose is to send tracking messages to pre-defined numbers in case your phone gets stolen and a SIM card other than yours is inserted. The effectiveness of this particular feature is the subject of a longer discussion, which we would rather not go into at this stage. Suffice to say, having it won't hurt at least.
Slow memory reading
The file browser in Samsung Armani is pretty much the same as in most Samsung feature phones. There are different tabs for the phone memory and the memory card but they have similar folder structures.
| | |
| --- | --- |
| "...The image viewing experience offers just the basic stuff - browsing images as thumbnails, zooming in on them, and sending them by email. But boy, is it slow! Browsing images seems like one of the true performance downsides of the device..." | ADVERTISEMENTS |
There are folders for most different file types - images, video, music, sounds, which allow the handset to sort the memory contents. The functionality of the file browser is one of the best among non-OS phones. You can copy or move files - both one by one and a multiple selection, and you can create and delete new folders (except for the root ones, which cannot be removed).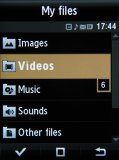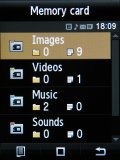 The folder list for the phone memory (left) and for the memory card (right)
Furthermore, you can sort files in a given folder by name, date, type or size to easily locate a specific file. Bluetooth file transfer can also be done one by one or in bulk. Throughout the whole file manager, you can pick files you would like to lock to prevent accidental deletion.
A flaw we have found in several recent Samsung handsets is unluckily also present in the Armani phone - the unusually slow card reading. So, if you are up to purchasing this handset prepare to be patient when the memory card is accessed.
The Samsung Armani picture gallery is a part of the file manager and not a separate application. Accessing it is as simple as opening the Images folder. You can copy or move images but only to the Images folder on the memory card and vice versa.
The image viewing experience offers just the basic stuff - browsing images as thumbnails, zooming in on them, and sending them by email. But boy, is it slow! Browsing images seems like one of the true performance downsides of the device.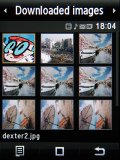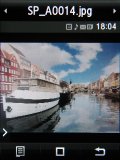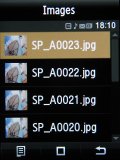 Previewing images in the phone memory (left) and on the memory card (right)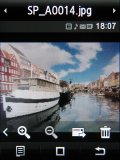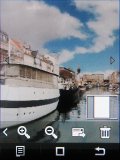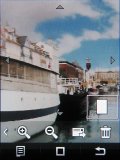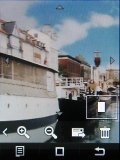 Zooming in on images is quite slow actually
If you wish you can do a bit of editing on your pictures using the integrated Scalado Image Editor, which is quite fast and rich in features. Processing images is quick but editing still takes time since all the features are organized in intricate submenus, which makes applying different effects a rather lengthy process.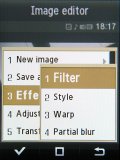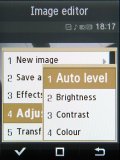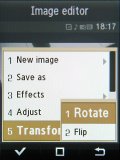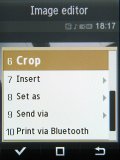 The Scalado image editor: choosing from a wide range of effects and actions
The Scalado Image Editor allows you to apply 13 special filters such as stamp, black and white, sepia, negative, milky, antique, fog, moonlight, color boost, posterize, solarize, blur, and sharpen. Then you can get serious with other effects like despeckle, noise, oil paint, emboss, sketch, sketch color, cartoon, paint, frosted glass, magic pen, spotlight, mirror.
You can also adjust levels, brightness, contrast and color. You can of course flip, rotate and crop the image, as well as apply one of 10 warp styles that make pretty funny portrait images. Options are so many that elaborating on all of them calls for a full-fledged software review.