Connectivity-wise Armani is not "hot" couture
In terms of connectivity, Samsung Armani and high-end just don't rhyme. The handset doesn't feature 3G or HSDPA and the USB slot is the newer wider type. Network data transfers are only carried out via EDGE.
Bluetooth v2.0 with A2DP profile support allows listening to your favorite tracks on stereo Bluetooth headphones.
The Samsung Armani phone is equipped with the latest NetFront 3.4 web browser. Usually browsing with this version of the web browser is really nice as it renders pages nicely and correctly. It even offers a webpage mini-map to assist you with horizontal and vertical scrolling.
However the browser and the touch-based UI just don't mix well. You should forget about using iPhone-style scrolling with your fingers. To navigate around a webpage you should either use the set of virtual arrows that appear at the bottom of the screen or you should rely on finger swipes. Using the finger swipes though won't take you far, as each swipe only takes you a hyperlink away in the desired direction. So effectively you can scroll only one link at a time and that's way too tedious.
Organizer is as good as expected
The Samsung Armani calendar offers three views - daily, weekly and monthly. The events available for setting up are three types: appointment, anniversary and task. You can choose which calendar view should be default and you can pick the starting day of the week - the options are Monday or Sunday.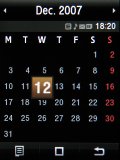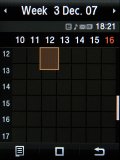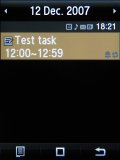 The Calendar has three views: month, week and day view
There are five alarm slots, each with a variety of configurable options - snooze time, repetition, etc. You can of course choose a custom ringtone to wake you up at a preset volume level. You can also choose whether your phone should automatically power up upon alarm activation. This feature can be quite handy if you have the habit of switching off your handset at night.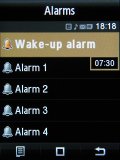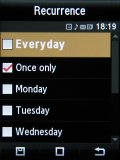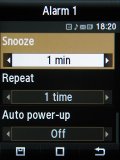 There are 5 alarm slots available with rich settings
Among the other organizer offerings are the voice memo recorder, a world time application, a calculator, and a unit converter. You can also use the memo and task applications for making notes. A countdown timer and a stopwatch are also available. The voice recorder records in .amr format and has a one-hour recording limitation, which sounds good enough.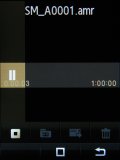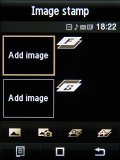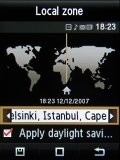 The voice recorder • The image stamp • The World Time clock
The Calculator of the Armani phone is as ridiculous as the web browser. The user is forced into constantly switching between number and math function signs.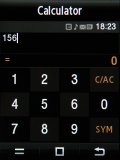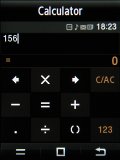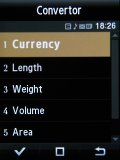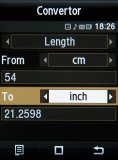 Calculator: number and extended characters • unit converter
A nice advantage of all Samsung mobiles is the preinstalled Picsel Viewer, which ensures support for viewing office documents created by Word, Excel, Powerpoint or Adobe Acrobat.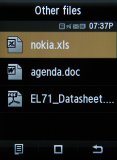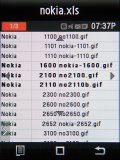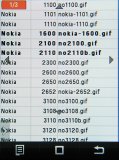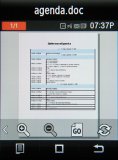 Picsel viewer offers support for office files: opening a spreadsheet and a text document
The Picsel viewer has a plethora of options. However its performance is strictly dependant on the platform it runs on, which when it comes to feature phones is not among the fastest. Handling Excel and Word documents was a breeze, however that cannot be said about the PDF documents.
Gaming is rather limited
The Samsung Armani phone is not packed with games and that's unusual for a Samsung mobile. There is only one game and it's called Photo Puzzle. Its gameplay is quite popular and doesn't need much talking about.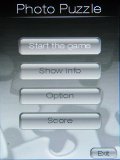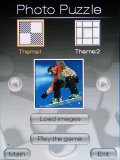 The Photo Puzzle game is custom made for the Samsung touch UI
Since the Armani phone doesn't have emulated controls for standard Java games (as seen on LG Prada and Viewty), our guess is that it would be impossible to download third-party games. The Photo puzzle one seems specifically developed for the Samsung Armani platform. But who knows!? Java support is there, so if new titles for the Armani phone get developed, you would probably be able to install them.
| | |
| --- | --- |
| "...A nice advantage of all Samsung mobiles is the preinstalled Picsel Viewer, which ensures support for viewing office documents created by Word, Excel, Powerpoint or Adobe Acrobat..." | ADVERTISEMENTS |
Final words
The Armani phone by Samsung is a stylish handset and truly a strong fashion statement. The hefty price tag, along with the Armani involvement, is bound to make this device a winner among the fashion savvy.
For the rest of us though, the Samsung Armani phone is just underpowered. And we don't mean the regular specs here. The Croix user interface is just too demanding on the processing capabilities of the device. While it does seem a little bit out of place to speak about processing power in a fashion-centric device, truth is it ruined the experience for us. The Samsung F700 which features the same UI performs much better.
So, if we are to sum it up, the Samsung Armani phone comes with a well balanced set of features, be they not all exactly high-end. It's got a really refined design, it's compact, and there's that hard to resist aura of exclusivity about it. However, being so heavily underpowered and seriously overpriced, it will have a hard time turning into a success.