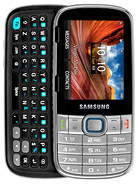 ?
Could this phone get connected with a JABRA WAVE+ Bluetooth?
D
I like this phone but now I saw the specs I don't want it as my current phone nice heads up. 2.8 Stars
m
more size fore hadset & mobile after new hadset for market lonch.
D
Nice phone-old school- did some work for a Church and they gave me this free and loaded with many minutes & battery lasted fine; also took many quality pictures and forwarded same folks think they came through in good QUALITY. I went home and made my own case with a nice retractable lanyard because this thing is slippery as a wet eel. Takes nice Video's. My phone has a "V" after the 390. I was surprised at the memory being so big Send and receive is excellent/record works well/simple to program for personal use. "User friendly"
CMVHighPriest
M
I agree.Very lightweight.Battery doesn't last long.
D
I only wish Samsung made an Android version of this phone. Ok, this design is not perfect, but there are may of us who dislike touchscreen phone and we want something in between. A hybrid phones (in other words both touchscreen and real buttons). I love the fact this phone has both numeric keypad and a slide out keyboard. Touchscreen keypads are really annoying to use. It takes longer to do anything on touchscreen.

If Samsung is listening (or someone influential is listening), please can you get manufacturers to address the needs of customers like me.

This pone just needs to be made a little wider and have a bigger nicer high res screen.


?
Battery doesn't last long. Very lightweight. I don't like that the phone beeps at you every few seconds until you read a text you have. Contacted Samsung and they said there is no way to shut the beeping off.
?
Anonymous, 09 Nov 2012Got the phone two weeks ago. Looks nice, acts like it offers a lot, but has been disappointing... moreI agree. very disappointed. At least this phone should b gd 4 the basics.
?
Got the phone two weeks ago. Looks nice, acts like it offers a lot, but has been disappointing. Battery doesn't even last 4 hours if you talk, text, take pics, or even browse contacts. It's limp for browsing the web. Today, found the phone locked up at noon and stayed that way all day until I discovered it in the evening, after people said they couldn't call me. People often tell me that. Not happy
?
I just got my Samsung Array M390 yesterday and it is so amazing (:
c
fsd, 15 Aug 2012very slow .. wew .. TSK !!!Sorry, but I can't see any similarity with any Nokia phone ...
f
very slow .. wew .. TSK !!!
g
Some kind of Nokia copy by Samsung. see Nokia E65
?
I dont think the 480mhz cpu was nessesary,doesnt look like a web browsing or gaming phone...
Total of 15 user reviews and opinions for Samsung Array M390.
ADVERTISEMENTS