Samsung Gear S3 Classic and Frontier - the hardware
People started wearing watches for practical reasons, but the humble wristwatch eventually morphed into a piece of jewelry where looks trump function.
Perhaps that's why many stopped wearing watches when phones took over as the vanity item to have. Others stand by the classic watch and for them most smartwatches don't cut it - they just look too gadgety.
Samsung addressed this by building the Gear S3 like a classic watch. It used durable 316L stainless steel - a material commonly used in luxury watches that need to hold up to corrosion inflicted by seawater, chlorine and acids.
Indeed, both S3 watches are waterproof with an IP68 rating. IP ratings don't cover swimming in the sea (salt water), even chlorinated pools aren't safe enough.
Samsung went a step further than IP and even showed resistance to extreme temperatures - one Gear S3 was dunked in a freezing bath with dry ice, another was half buried in sand and under a heat lamp. So, be it a mountain top or a desert sand dune, the S3 is with you all the way.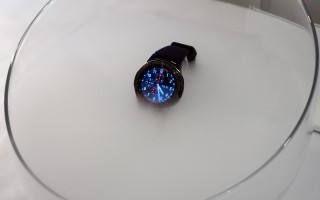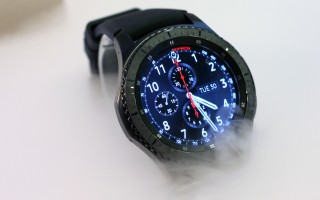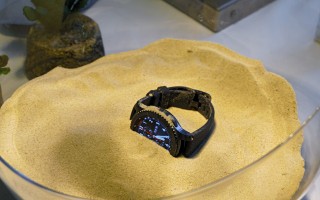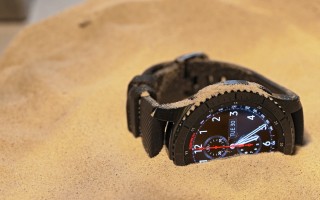 A frosty dry ice bath • A scorching day in the (artificial) sun
The ruggedness is helped by Gorilla Glass SR+, specifically designed for wearables. It has lower reflection and better damage resistance (reducing visible scratches) than a typical glass. Samsung says it's almost as tough as sapphire, while Corning is more restrained in its claims (well, this batch of SR+ is specifically cooked up for Samsung, so maybe it has a secret ingredient).
Perhaps now is a good time to make the distinction. The Samsung Gear S3 Frontier comes with rubber bands and a bezel with notches and numbers. It's a subtle difference, but the numbers make it look like a dive watch. Also, its buttons are wide, flat and grippy - perfect for wet hands.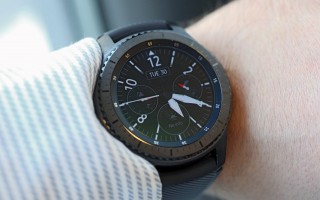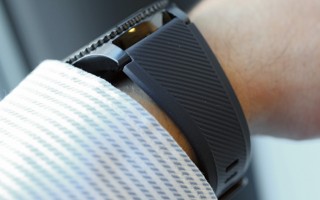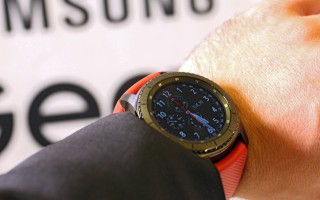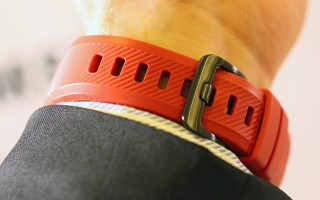 Samsung Gear S3 Frontier - Black case, rubber band
The Gear S3 Classic has a clean bezel and traditional round buttons. There's two of them - Top is Back, Bottom is Home - the rotating bezel handles fine-grained selection. It can also answer/reject calls by rotating it left/right, great for gloves.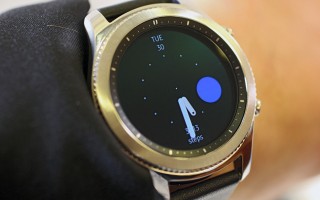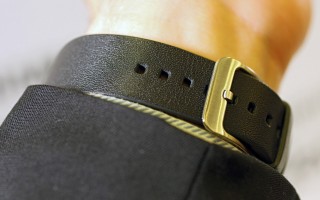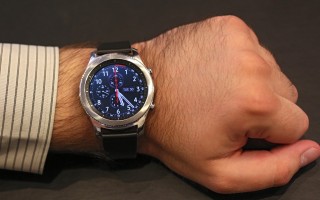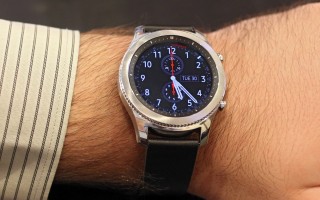 Samsung Gear S3 Classic - Silver case, leather band
The two watches are identical in size (46.1mm in diameter, 13mm thick), but the Frontier weighs a bit more (62g vs. 57g, both without the band). They both have a two-tone design - matte top and shiny sides.
Speaking of size, the Gear S3 is noticeably larger than the S2 - one of the biggest smartwatches we've handled. The screen isn't that big, 1.3" (up from 1.2" on the S2), but the bezel does add plenty.
The major difference between Classic and Frontier is color and bands. The Classic comes only in Silver and with Leather bands, Frontier only in Black and with Rubber bands. Unexpectedly, we liked the feel of the rubber bands better, the leather ones are too rigid. The black color was more to our taste as well.
The watches use standard 22mm bands and are easy to swap - the Samsung rep did it in front of us in under a minute.