Pocket journey
Samsung Ativ Odyssey review: Pocket journey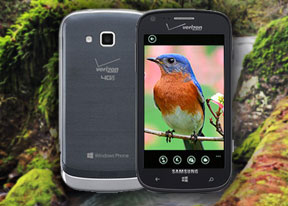 A 5 megapixel camera we are familiar with
The Samsung Ativ Odyssey features a 5MP camera which, like its display, has been featured in quite a few smartphones made by the Korean manufacturer.
The camera UI is pretty simple - you have your viewfinder and some controls on the right. From top to bottom they are the still/video camera toggle, virtual zoom buttons and an extended settings menu. On the left you have an arrow that takes you to the images taken with the camera, alternatively you can do a swipe gesture too.
The camera app on Windows Phone offers extensive settings, ranging from scenes and effects to white balance, contrast, saturation, sharpness, ISO and more. You have a dedicated Macro focus mode but no face detection. The flash can be set to auto, forced or off.
The camera key will wake the phone with a single press - that is unlocking it, and start taking shots.
The Samsung Ativ Odyssey may only snap 5MP stills, but the photos it produces are actually surprisingly good. The resolved detail is high even at 1:1 pixel level, the noise is low and the colors are usually spot on.









Samsung Ativ Odyssey camera samples
1080p video recording
The video camera interface is identical to the still camera one and has plenty of features too. You can only change the white balance and the video resolution though. The LED works fine as a video light.
The Samsung Ativ Odyssey may not offer much in terms of megapixel count, but it captures some nice 1080p videos to make up for that. They come with the same highly-detailed, nice and contrasty look that we saw in the still camera section and top it off with a smooth framerate and a bitrate of almost 20Mbits. On the downside, the sound recorded along the videos is single-channel only.
We've prepared an untouched video sample from the Ativ Odyssey camera for direct download.
And here is a lengthy video uploaded to YouTube.
Rich connectivity
The Samsung Ativ Odyssey has quad-band GSM/GPRS/EDGE support to go with CDMA/EV-DO support. Naturally, Verizon's superb LTE network connectivity is on board as well, and a joy to use as always.
The local connectivity is covered by dual-band Wi-Fi a/b/g/n with DLNA and hotspot, and stereo Bluetooth 3.0.
Despite you can still sync with Zune, your device is now Zune independent. There is Mass Storage mode for both the memory card and the internal phone storage and you can upload files on both. There is no requirement where you put your files (specific folders, etc.). If the phone has the appropriate app to recognize a file, you'll have access to it. Since there is no WP file manager, you'll have to access the unrecognizable files only via a computer.
The phone knows music and video, as well as pictures and documents. But if you have let's say a ZIP or a RAR file, you won't be able to attach it in emails, because there is no file manager and there is no app to recognize this file and list it in the phone.
In addition to your phone + SD storage you also get at least 7GB of SkyDrive cloud space.
Samsung Ativ Odyssey also has NFC connectivity.