Pocket journey
Samsung Ativ Odyssey review: Pocket journey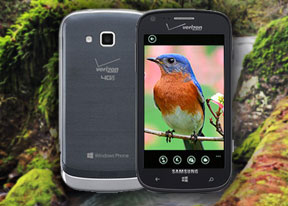 Internet Explorer gets more powerful, keeps the old looks
The Internet Explorer on Widows Phone 8 brings got a major upgrade, but it kept its old looks. Almost everything Microsoft has done on the IE is under the hood and the end result is close to excellent.
Just don't expect Flash support, there is none and Adobe has officially abandoned the mobile browsers. Silverlight doesn't work either.
As usual the URL bar is always visible at the bottom of the screen (but the status bar at the top of the screen is auto-hides, so you don't actually lose any screen real estate) and next to it is the refresh button. You can, of course, bring up the extended settings, which offer a great deal of options - tabbed browsing, recent history, favorites, share options, pin to Start, find on page and advanced settings..
The URL bar also serves as a search bar, which is a handy shortcut for looking things up if you're not sure which site exactly will do the job.
The browser interface is quite minimalist - you have only the URL bar at the bottom with a reload icon to the left. Swiping the bar upward reveals shortcuts for tabs, recent, favorites, add to favorites, share page, pin to start and settings. The settings menu offers the usual options like location, allow cookies, delete browsing history and it does offer to choose a global preference for mobile or desktop site versions.
The browser makes the controls in web pages look just like their equivalents in native apps. So, a web app can look just like a native app with practically no extra effort from the designer.
And finally, you can open more than six tabs simultaneously. Eight or ten worked just fine
The Windows Phone 8 browser is certainly a capable performer, and uses hardware graphics acceleration to provide smoother graphics and animations. It topped our SunSpider benchmark charts, but scored somewhat above average on BrowserMark.
SunSpider
Lower is better
Samsung Ativ Odyssey
886.7
Samsung Ativ S
891
Nokia Lumia 820
910
Nokia Lumia 920
910
Apple iPhone 5
915
HTC Windows Phone 8X
923
Samsung Galaxy S III
1192
LG Optimus G
1353
BrowserMark 2
Higher is better
LG Optimus G
2555
Nokia Lumia 920
1774
Nokia Lumia 820
1760
Samsung Ativ Odyssey
1594
Samsung Omnia W
1632
Samsung Galaxy S III (JB)
1247
Bing search is here to stay
When you search on Bing, one of the things that might be offered as a relevant result is an app from the Marketplace. For example, searching for "travel" will offer a travel tool app. This feature is called App connect.
Bing also offers song recognition and barcode scanner. The new feature here is Local Scout. Thanks to the dedicated app and its provided service, you can search for various points of interest near your location.
The camera scanner can also snap a photo of text, perform OCR and translate it into another language.
Of course, Bing does regular web searches for pages or images and can look for interesting locations nearby.