Pocket journey
Samsung Ativ Odyssey review: Pocket journey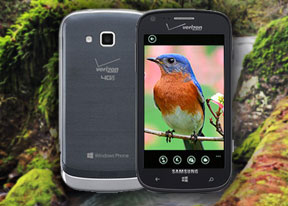 The Store is still playing catch up
The Windows Phone Marketplace, from now on called Store, is still playing catch up with the Apple Appstore and the Android Market. The number of apps available in there is higher than 100 000, but it's far less impressive than the Android and iOS. Since the Windows Phone 8 is different than its predecessor, it means the apps written on its native code won't work on the older versions. Bummer, right?
Thankfully, all of the older apps will be compatible with the new WP8.
The Store is organized into three main sections - applications, games and music. A fourth section called Updates shows up when one of your installed apps has received an update - there's an Update all button, which will save you the hassle of updating each app individually.
Anyway, each app will be listed with a short description, a rating and user reviews, and a few screenshots. If the app can use something that can potentially breach your privacy (e.g. location information) the Marketplace will let you know.
It's not as comprehensive as the Android Market (which lists just about everything the app can use) but on the upside it only warns you about the important things.
Big downloads (anything north of 40MB) need a Wi-Fi connection to work. Alternatively, you can download those jumbo apps using the desktop Zune software.
The Application section starts with a featured app, then it's on to the categories (including all and free), followed by the top apps, a list of new ones and a longer list of featured apps.
The Music section is actually the Xbox (previously known as Zune) Marketplace. Its structure is similar to the Application section. First, a featured artist of the week, three more featured artists, then a list of new releases, top albums and genres.
Genres themselves are separated into sections too - new releases and top artists/albums/songs/playlists. For each song, you get a 30 second preview (same as iTunes). If you have a Zune pass, you can stream the entire song (or download it DRM-protected), just like you would on a Zune player (it's 10 US dollars a month).
The Games section is divided into Xbox Live, New, Featured and Genres, which is the categories version. A great thing about games in the Windows Phone Marketplace is the try option, which is available to many games and apps. It gives you a trial of a game before you decide to buy it.
The new and featured sections act as what's new/hot reference.
The Store on Windows Phone can be accessed via your WP device, the Zune software on your PC and the windowsphone.com website.
Search is available for the Marketplace but right now it pulls together search results from all sections - games and apps alike. Microsoft have fixed the issue where songs would get mixed up in the search too, which was annoying.
Xbox LIVE tile
Xbox Live is at the heart of the Games hub. It carries over many features from the Xbox - from your avatar to your scores and achievements. The Spotlight feature is available too (it shows info on new stuff) and also Requests - which shows you game invites from your friends.
Anyway, the games themselves are housed in the Collection section. Nothing much to see here, the installed games are arranged in a square grid and there's a Get more games shortcut, which launches the Marketplace.
Not all games support Xbox Live - the ones that do are in the corresponding section in the Marketplace.
Also from here you can see your friends and their profiles, achievements and avatars. There are a few shortcuts to other Xbox Live-related apps - such as remote Xbox control (like the Marketplace) or the app allowing you to change your avatar. If you don't have them installed, you'll be redirected to the Marketplace, otherwise you'll get directly to the app in question.
Bing Maps is onboard, there is still no sign of navigation
The basic mapping solution in Windows Phone is Bing Maps. They have driving (and pedestrian) navigation for free, but they're not a match for Nokia's bespoke applications (we'll discuss them in the next section).
Now, it's not quite voice-guided navigation. Here's how it works: first you set up a route and listen to the first instruction, then when it's time for the next instruction, the phone will beep and highlight it. If you tap it, the phone will read it out to you, but only then.
The Maps app uses a big font with white letters on black background that make reading easy. It still requires you to take your eyes off the road though, it won't put SatNav apps out of business.
Real-time traffic information is also available.
The Local Scout is now a separate app from the Maps. It will locate nearby points of interest with the new feature called Local Scout and it will even show you indoor maps of malls.
Local Scout has a tabbed interface to sort the various points of interest - eat+drink, see+do, shop and highlights. You can pick items from a "I care about" list to get the relevant options only.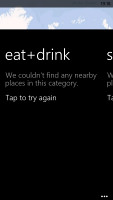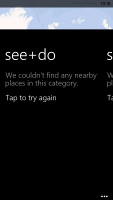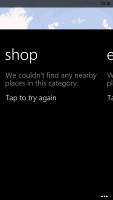 Local scout can take you to interesting places
A cool functionality of Local scout is you can pin places to your homescreen. So let's say you like a pub and like to check it out from time to time, read reviews, call for a reservation - it's right there on your homescreen - that's neat.
Unfortunately there is no pre-installed navigation software as expected, but we guess it's just because we got a pre-release unit and not the final one.