The Samsung ATIV SE is now a reality. After showing off some specs and a press photo we all assumed to see the device being unveiled at Microsoft's BUILD conference alongside the Lumia 630 and Lumia 930. It seems, however, that Samsung and Verizon had other arrangements and here it is, live on Big Red's network.
The Windows Phone device will set users back $199.99 on a two year deal or $599.99 without a contract. The device will ship on April 12, a day after the Samsung Galaxy S5. And just like with the latter, Verizon is offering a buy one, get one free deal with the ATIV SE. If you get the ATIV SE with a contract and commit to a new two year deal you can get the Galaxy S5, HTC One (M8) or another ATIV SE with no upfront cost.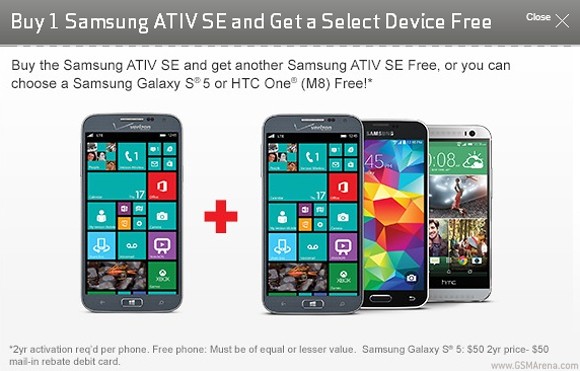 The ATIV SE is pretty much a beefier Galaxy S4 with Windows Phone 8 running on it. The beefy part comes thanks to the quad-core Snapdragon 800 processor (the S4 was rocking a Snapdragon 600 chip). Otherwise, the 13MP camera, 5" 1080p Super AMOLED, and 2600mAh battery are all the same.
We would've liked to see the SE running on Microsoft's recently announced (read. not released) Windows Phone 8.1 OS, but that'll likely happen if and when the device makes an appearance outside Verizon's network.
?
Looks more like a smaller version of the Note 3. The bezel, sensors and camera placements are exactly the same. The Verizon website claims the phone has a "premium" design; not sure if that means this device will be made of metal or not. Co...
?
Or that they don't like it.
D
Well, in WP8.1 there is the new Word Flow "shape" typing keyboard. Also, the fact that you don't like the home screen tiles because you think they are a mess or look "busy" shows that you have never owned a WP before, or you are j...