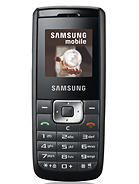 D
I want to know the size of phone book memory is it 100 or more. And key pad lock facility is avaliable?
T
dear sir,

i want to know which model data cable is suopported to this Samsung b100 handset.
thanks with regard
balaji
09337441666
?
Hello everyone
Hey I want to go for this phone but first I want some information about it from you guyz, plz can any one of u tell me is samsung B100 n Guru100 are same phone?? does B100 have speakerphone, bluetooth n how about it's battery life, 9 hrs is it true??? plz guyz I want the answers. O.K thank u in advance...
r
ok samsung b100 , only samsung like nokia no nokia 6500 like samsung z550
Total of 150 user reviews and opinions for Samsung B100.