User interface: surprisingly good
The toughened casing of Samsung B2700 holds a bunch of sweet features and applications that make the armor worth having. You get 3G and video calls, an Image editor, FM Radio, MPEG4 and MP3 player, a microSD card slot, Bluetooth, and lots of extra tools like flashlight, digital compass, pedometer and altimeter. B2700 is not all muscle, there's some guts too: shock, splash and dust resistance go with quite a feature load.
The main menu displays as a 3 x 4 grid of icons with corresponding alphanumeric key shortcuts. Deeper level submenus also have keypad shortcuts besides being navigated with the D-pad. Image quality is adequate and the user interface is very fast and responsive. The only exception is the picture gallery, camera images taking a bit longer to load.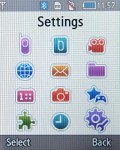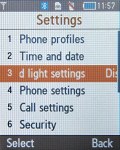 Typical Samsung feature phone menu
The home screen is quite minimalist. The basic status readings are all there, such as signal strength, service provider, time, battery status and the two soft key functions. Additional icons also get displayed to indicate Bluetooth on, missed events, silent/vibrate mode, alarm on, etc. There a few wallpaper types to choose from: living world, image, from theme and photo slider.
Telephony
Voice quality and earpiece and microphone performance are of special concern in rugged phones, as meeting the splash and dust resistance standards usually takes its toll on call clarity. We didn't have any issues of that sort with our unit - even though it's a pre-release one.
Further on the loudspeaker performance is really impressive: Samsung B2700 is the third loudest phone we've ever tested. Here is how it stacks against some of the other handsets we've measured in our speakerphone loudness test.
| | | | | |
| --- | --- | --- | --- | --- |
| Speakerphone test | Voice, dB | Pink noise/ Music, dB | Ringing phone, dB | Overal score |
| Nokia N82 | 70.2 | 61.2 | 65.9 | Below Average |
| Nokia 3500 classic | 65.9 | 65.7 | 75.7 | Average |
| Samsung F110 Adidas | 68.9 | 65.8 | 73.5 | Good |
| Nokia 6500 slide | 74.2 | 72.8 | 78.2 | Very Good |
| Sony Ericsson C702 | 75.8 | 75.7 | 82.7 | Excellent |
| Sonim XP1 | 81.8 | 76.2 | 82.7 | Excellent |
| Samsung B2700 | 81.3 | 75.7 | 82.8 | Excellent |
You can find more info about our loudspeaker test, as well as the results of other tested devices here.
Dialing a number has always been fun with Samsung if you are fifth grader, as you always have some sort of dialing animation, or a choice of several ones. In the case of Samsung B2700 you have as many as six. The last two vary a little according to the theme or your location.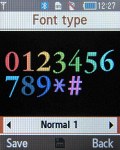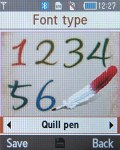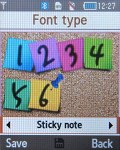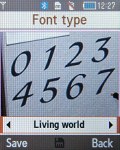 Some of the available dialing styles
Customization options are nice
Users can choose among three different preinstalled themes, each well known across a wide range of feature phones of the company. The B2700 has a default Samsung theme, as well as the Classic and Elegance Noire. If you want more, you have the option of creating your own theme in two modes - Easy and Expert.