Phonebook OK
The phonebook of B2700 displays the names from the SIM card, the phone memory or both at once. Searching is done by gradual typing of the desired contact's name. You can also use the Smart Dialing function. Unluckily, B2700 - much like many other Samsung phones - searches only in the contact's first name.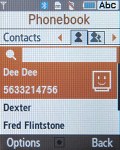 Phonebook looks are well familiar
Quite a number of different information fields are available for each contact. You can store up to 5 numbers, 2 email addresses, URLs, postal address, and so on. Each contact can also be assigned a specific ringtone and picture, as well as a note.
Contacts can be organized into groups, which can then have their own ringtones and pictures. There is also a birthday field. Contact details or your whole contact list can be sent via Bluetooth. You can also save namecards to your memory card if you want to transfer them that way.
Both the Call key in stand-by and the call log icon from the menu give access to your call history. It has four tabs - recent contacts, dialed numbers, received and missed calls. From the Call log, users can add separate numbers to a reject list. Upon an incoming call from a blocked number, it is displayed in the call log as usual without any indication of it being blacklisted.
Finally, there are also data and call time counters and even a call cost feature if you provide information about your subscription plan.
Messaging is cool
Samsung B2700 handles all common types of messages: SMS, MMS, and email. The first two share the same editor. You can convert your SMS to EMS by simply applying formatting or to MMS by inserting an image or other multimedia content. A rich T9 dictionary is at the user's disposal too. In case message sending fails, the message is automatically saved to the outbox, so you can try resending it.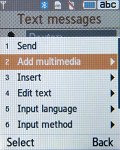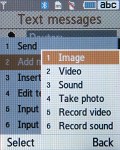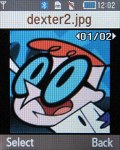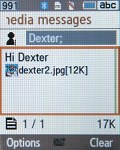 A text can easily be converted into MMS by adding media content
The email client is quite straightforward. It can manage POP or IMAP accounts; download is user-defined, opting between headers only and entire messages. Not only any files from the phone memory, but also business cards, calendar events, tasks or notes can be emailed as attachments. The client can be set up to check mail at a chosen interval. Even SSL support is there allowing to use it with mail services that require it, such as Gmail.
File management is excellent
The file browser in Samsung B2700 is the usual too, and does not differ from the one found in Samsung G400 Soul for example. There are folders for different types of files - images, video, music, sounds, which allow the handset to sort the memory contents. However, even if you misplace a file, the handset will still handle it.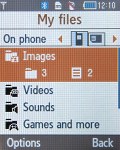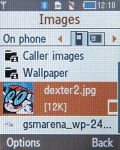 The file manager has tabbed storage management
The file browser functionality is one of the best among non-smartphones. You can copy or move files - both one by one or in bulk, and you can create and delete new folders (save for the root ones). Files can also be sent via Bluetooth, one by one or multiple at once.
Throughout the whole file manager, you can pick files you would like to lock to prevent accidental deletion. Memory card reading is normal - we didn't find significant lags in reading a new memory card.
We tested two microSDHC memory cards with Samsung B2700 - a 4GB one and an 8GB one. Both cards were recognized by the handset and we had no issues save for the initial recognition, which took about 30 to 50 sec. Both memory cards were full of music files and photos.
The B2700 picture gallery is an inherent part of the file manager and not a separate application. Accessing it is as simple as opening a folder that contains images. The pictures are seen as a list with small thumbnail next to each filename. Sorting can be done by date, type, name, and size. Once you open a picture to view, you can scroll sideways to see the next images without having to return to the image list. You can view a picture in portrait mode only. You can also zoom in on a picture to see greater detail though we must warn you that zooming in and out is quite slow and irritating.