Image editing is good
If you wish you can also edit your pictures using the integrated Image Editor - it's a very capable application, especially for a feature phone. It allows you to apply a whole bunch of effects and tweaks.
Transformations and crops, as well as insertion of various items, are also available. All in all, the Samsung B2700 offers you virtually all of the most popular editing capabilities you could possibly use on a cell phone. However, we still doubt it anyone takes image editing on their mobiles seriously, especially on a 1.9" display.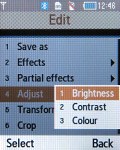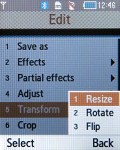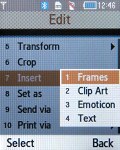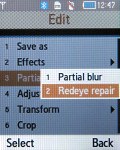 Some of the image editing options on B2700
Music player surprisingly good
Affordable rugged phones are usually underpowered in terms of extra applications, but Samsung B2700 is a pleasant exception. Its music player is quite decent, the missing equalizer option pretty much the only compromise. The inadequate 26 MB built-in memory doesn't have to bother you, as the microSD card slot can handle up to 8GB of music.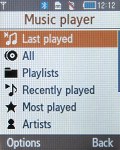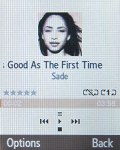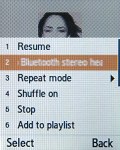 The capable music player has album art too
The Music player application allows filtering tracks by author, album, genre and composer. You can also choose to play either the tracks you've recently listened to, or the ones that you've played the most. If that doesn't seem enough, you can create your own custom playlists.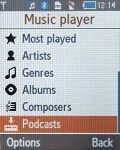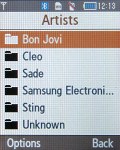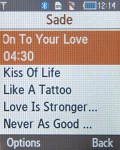 Tracks can be filtered by author, album, genre and composer
The music player can naturally be minimized to play in the background. There are neither equalizer presets, nor wide and surround options in Samsung B2700.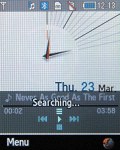 The player can also be minimized to play in the background
The Samsung B2700 comes complete with an FM radio, which is doing quite well in terms of user interface. It has the self-tune option to store all stations of clear reception at the moment. There is also RDS that can be switched on and off depending on your taste.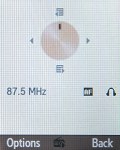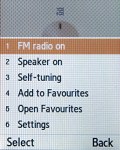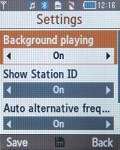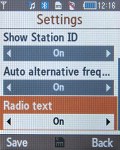 The FM radio with RDS can also run in the background
The video player doesn't have many features, the basic player doesn't even support fullscreen or landscape mode, yet fast-forward and rewind are among the players features.