Adequate organizer
The Samsung B2700 calendar offers three views - daily, weekly and monthly. There are five types of events available: appointment, anniversary, holiday, important, and private.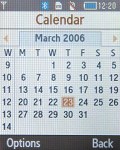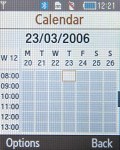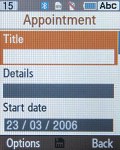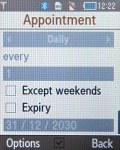 The calendar with standard functionality
The number of alarm slots are also five, each with a variety of configurable options - snooze time, repetition, etc. You can of course choose a custom ringtone to wake you up at a preset volume level.
Among the other offerings are a voice memo recorder, a calculator, and a unit converter. A countdown timer and a stopwatch are the kind of features to expect in a tough rugged phone.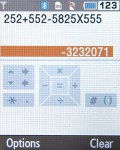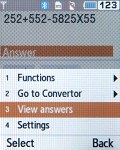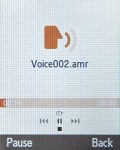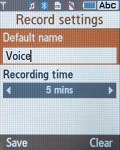 The calculator and voice recorder apps
Setting up a note or a task is also available in B2700.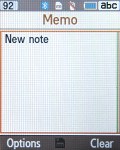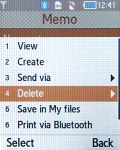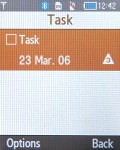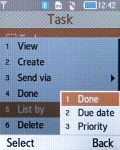 Creating a note, setting a task
Fun corner
Samsung B2700 offers a sneak-peek of 4 fairly amusing games - WSOP (Poker game), TetrisMania, DiamondTwister (a version of Bejeweled game), and BrainChallengeVol2. All of them are trial versions.
WSOP and TetrisMania are well known games, which hardly need detailed description.
The DiamondTwister is an offshoot of the popular Bejeweled game, while The BrainChallengeVol2 is a quiz, the kind we like.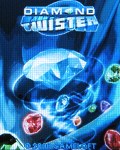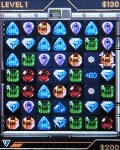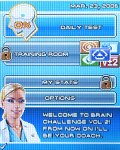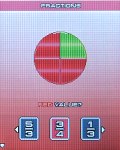 DiamondTwister and BrainChallengeVol2 trials
Final Words
To wrap it up, B2700 makes no compromise with durability but the more important thing is Samsung make no compromise with the package. The maker could've easily gotten away with keeping the handset trimmed down on features and staking everything on ruggedness.
In all honesty, this very feature set in any other phone would've inspired a few approving nods at most and the observation that low-to-mid range phones are duly evolving. Nice and responsive interface, quad-band support, 3G with video calls, memory card slot, FM radio and music player may be just taken for granted these days but not in a phone that takes durability so seriously.
The tough and sporty Samsung B2700 is keen to deliver on all counts and strives to stay relevant with some extra goodies that do belong under its armor: a flashlight, compass, altimeter, and pedometer. Our experience tells us this is one of the most consistent and well-rounded packages in the lower midrange. Our sources claim it will go around at about 150 EUR before tax. How's that for a hot start?