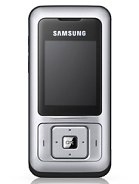 b
Anonymous, 08 Feb 2009this kind of phone comes in block style. Only addition of 1000 phone contact and 16MB built in... morewould you please tell me what is the model supporting the same features but in block style (and higher memory, 16M instead of 4M)?
thanks
j
yu people, i have just bought this phone and consider it the best i hav ever? and u r quite negative on it.
a
java program size is limited to 100KByte
and some other restriction on other file type size
But good phone for low price
It cost 730,000 Rials in Iran/Tehran for me
?
this kind of phone comes in block style. Only addition of 1000 phone contact and 16MB built in memory. All other features remain same.
F
Excelent phone, it has everything I need at a decent price. Excelent sound quality, loud and clear. Enought memory for my needs, very functional calendar and alarms. Triband and FM radio as a bonus. Who needs realy a camera, MP3 player and other stuff? And if you realy need it, buy a decent one, whit all the quality you usualy demend, because on low price phones you only get weak ones. I definitely recomend this phone, no doubt.
B
Geez you guys dont go hating on samsung.
there are ppl in the world who just need a very very basic phones to make calls w/

i bet u guys that this phone prbably has better call quality then your phones...which probably cost A LOT more than this
S
Piece of Sh.....
What the hill is this ? Why Samsung are you dying for money or for new funny customers
?
I think the design's quite cute!

Specs are good for a camera-less phone apart from the really low memory.
?
wow, even in 2006 this would have been a pretty low-end phone...

If this phone costs more than AUD$50 I'll be shocked. a good phone for your technophobic grandma, perhaps? lol
Total of 15 user reviews and opinions for Samsung B510.