Introduction
The S3650 Corby was just the beginning of a lineup that appears to have no visible end. There is a Corby for the touchscreen addicts, a Corby for the music buffs, Corby for the heavy texters, Corby for the young, and one for their parents. That's pretty much everyone, don't you think? We guess there should even be a Corby for the bored-with-the-Corby.
The founding member of the Corby wasn't announced so long ago, but so much has been changed. Well, if you put the S3650 Corby and the recently announced B5310 CorbyPRO side by side you'll notice one thing that hasn't changed at all: design. But on the inside they are very different, indeed.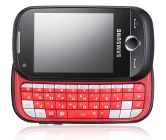 Samsung B5310 CorbyPRO official photos
The Samsung CorbyPRO is meant for a different range of users altogether. It combines great texting and the intuitive touchscreen control tops that up with a nice connectivity package (such as HSDPA, Wi-Fi, GPS and a 3.5mm audio jack) and all that is delivered at a bargain price.
Key features
Quad-band GSM/EDGE
Dual-band UMTS support with HSDPA
2.8" resistive TFT touchscreen of QVGA resolution
Four-row side-slide QWERTY keyboard
150 MB onboard storage, microSD card slot (up to 16GB)
3.15 megapixel fixed-focus camera with smile detection, QVGA video @ 15fps
FM radio with RDS
Find Music recognition service
TouchWiz and Cartoon UI
Social networking integration with direct file uploads
GPS with A-GPS support
Wi-Fi and GPS
3.5mm audio jack
Accelerometer sensor for screen auto rotation
Office document viewer
Excellent web browser
Push email
Smart unlock
Replaceable rear covers (Fashion Jackets)
Main disadvantages
Disappointing sunlight legibility
The camera has no autofocus or flash
Video recording maxes out at QVGA@15fps
All preinstalled games are trial versions only
Google Maps is the only GPS navigation app
microSD slot is under the battery cover
The original Corby was all about design, about touchscreen, about budget. The CorbyPRO, on the other hand, has managed to keep all that but goes much further by adding some killer features that are well above the S3650 league.
For instance, now you get UMTS support with HSDPA which will dramatically boost web browsing. But the really big news here is Wi-Fi support. It is a great addition to the comfy QWERTY keyboard and the numerous social networking services that the phone gives you access to.
Strangely, the latest of the Corbies also has an integrated GPS receiver. You can use it for image geotagging as well as for navigation. Unfortunately, if you decide to use your CorbyPRO into a GPS nav device you'll have to solely rely on the preloaded Google Maps app or on a third-party Java alternative.
And when it comes to the Corby basics, we shouldn't forget to mention the 2.8" touchscreen. Well, it turned out to be resistive this time around but that isn't necessarily a bad thing. The colorful UI is also aboard and, unfortunately, so is the fixed-focus camera (3-megapixel this time).
The time gap between the S3650 and the B5310 is rather small but it was enough for the competition to release some good CorbyPRO rivals that offer a similar feature pack at nearly the same price. But before we come to that, there's planty of Corby to cover here. Starting with the looks and feel of this Pro on the next page.
s
Good one sliding phone I used..I want this time also
D
Can Somone please help me! I found this slide phone on the ground in good condition missing the battery. I know it uses a micro usb charger, and i have plans to get one of them, but I am wondering how much this phone is actually worth in Canada, as o...
S
I amn't able to download whatsapp.plz help