Here's a phone that looks like a knock-off of the Samsung S8300 but it isn't - meet the Samsung B7300. Although it's like an UltraTOUCH without the slide, it's more like a sugar-free Omnia.
The leaked Samsung B7300 runs a TouchWiz-skinned Windows Mobile OS, in the tradition of the original Samsung i900 Omnia, unlike S8300, which had TouchWiz as well but was a feature phone. The B7300 display is the same as the one on the Omnia - a 3-inch WQVGA TFT touchscreen. The source says 320 x 400 but it's obviously a typo since the screen on the photos has an aspect ratio pointing towards WQVGA.
Internet agility wasn't on the list of top priorities when Samsung were designing the phone - there's no Wi-Fi or 3G, just EDGE. There's sort of an explanation for this - the phone is headed for China Mobile and they have yet to roll out a 3G network.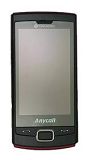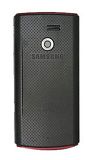 Samsung B7300 isn't pretty, expensive
What gives the Samsung B7300 some appeal is the built-in GPS. The rest is pretty standard - Bluetooth 2.0, microSD slot, FM radio, microUSB port. The camera has fallen victim to cost-reduction, it's just a 3 megapixel one, which is a step down from the Omnia, and quite a drop compared to the S8300.
Like we said, it's an Omnia lite. The dimensions of the phone haven't suffered though, at 107.9 x 51.8 x 13 mm and just over 100 grams it's actually a bit smaller.
Release date and price are not known yet, not even if it will come to our shores or be China-only.
j
It's a niche phone no doubt but still promising- it's not ugly. Windows 6 + touch screen + (possibly) less money are strong arguments. If the camera has auto/macro I'd consider getting it to upgrade my u600 but it REALLY needs wifi.
ADVERTISEMENTS