Introduction
Samsung have just released their B7320 OmniaPRO and now, just a few short weeks later, they are introducing the B7330 OmniaPRO. Some might think there is something wrong. To get straight to the point, there's nothing wrong with the B7320 OmniaPRO. But who are we to frown at an upgrade.
Now, that's where it gets a bit tricky. First of all, it's not a major upgrade involving a lot of investment and effort. Plus, the two handsets will perhaps coexist peacefully serving different markets. Still, a few nice little touches make the new B7330 OmniaPRO a real treat. The newcomer is slimmer, has brilliant ergonomics and is quite keen to double its predecessor's data speeds and boost screen size and resolution.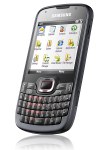 Samsung B7330 OmniaPRO official photo
And the big news of course is Windows Mobile 6.5. We guess the release of the B7330 OmniaPRO is meant to herald the OS upgrade rather than send the B7320 into oblivion. Actually, the latter – along with the other current Omnia handsets running the earlier 6.1 version of the OS – will at some point be upgradeable to WinMo 6.5 anyway.
Having cleared that up, we can now get on with our first look at the cute Samsung B7330 OmniaPRO. Cute may sound a bit odd for a business device, but the handset does look and feel great, and is so wonderfully compact that we couldn't think of any other word to describe it. So, it's a brand new WinMo powered QWERTY messenger that's keen to serve and please the eye. Sounds worth a closer look, doesn't it?
Samsung B7330 OmniaPRO at a glance:
General: GSM 850/900/1800/1900 MHz, UMTS 900/1900/2100 MHz, EDGE class 10, HSDPA, 7.2 Mbps; HSUPA, 2 Mbps
Form factor: Full QWERTY bar phone
Dimensions: 114.9 x 59 x 10.8 mm, weight 107 grams
Display: 2.62" 65K color TFT display, 320 x 320 pixels, remarkable sunlight legibility
Platform: 528 MHz processor
OS: Microsoft Windows Mobile 6.5 Standard
Memory: 270MB storage, 256 MB RAM, hot-swappable microSD card slot (up to 32GB)
Camera: 3.15-megapixels auto-focus camera, geotagging, QVGA@30fps video recording
Connectivity: Wi-Fi, Bluetooth 2.0 with A2DP, standard microUSB port, GPS receiver with A-GPS
Misc: Office document viewer and editor
Battery: 1500 mAh Li-Ion battery




The Samsung B7330 OmniaPRO at ours
As you can see, there are some differences compared to the B7320 but they aren't that significant. However, what has been changed has been changed for the better, so now the screen sports some more pixels and real estate, there's Windows Mobile 6.5 right out of the box, boosted up HSDPA and HSUPA, and a beefier battery.
Last but not least, the B7330 OmniaPRO has lost some weight and got thinner (the device measures 114.9 x 59 x 10.8 mm and weighs only 107 g) and is now much closer to the famous Nokia E71 or RIM's BlackBerry devices. Comparing the B7330 to the E71 and the BlackBerry gang is no surprise since all these devices share similar features and perhaps potential users.
Anyways, enough talking, let's get down to it. Jump on as we explore what the B7330 OmniaPRO is made of, followed by a brief rundown of the interface.
t
how do i downloaad whatsApp from my samsung b7330 OmniaPRO
a
i wnt play music videos onmyphone and i dont know how.canyou helpme?
?
when i surf the net with this phone it always asks me "go to dload mode?" then after that it freezes...someone help me