No changes in IE Mobile
The only browser on board is the good old Internet Explorer Mobile - if there have been any updates, we couldn't quite see what they were. Well, full Flash support is definitely a plus, as you can easily play YouTube videos; however, the browser lacks any way of centering on screen or even fitting contents automatically. So as you can see below, getting the video screen just right takes some effort.
Internet Explorer Mobile disappointed us with the heavy image compression it applied by default. Since we haven't heard of Microsoft starting server-side compression such as Opera Mobile, we guess the compression is done on the handset itself to save on system resources rather than wireless data traffic.





Internet Explorer Mobile can play desktop YouTube videos but is rather harsh with its image compression
A nifty little camera
The Samsung B7330 OmniaPRO is equipped with a 3 megapixel auto focus camera. The camera interface is the same as in previous reincarnations of the OS.
Surprisingly, a couple of camera samples we took clearly show the Samsung B7330 OmniaPRO to have one of the best 3 megapixel shooters on our list: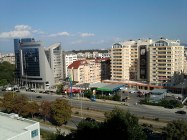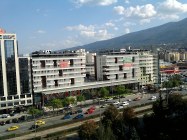 Samsung B7330 OmniaPRO camera sample images
Unfortunately, we are not as impressed by the video recording. It only goes as high as QVGA@30fps.
First impressions
So, as unimpressed as we are with the whole 6.5 makeover of the Windows Mobile Standard OS, we have to admit that the Samsung B7330 OmniaPRO might just be able to get a corner on the market.
A powerful messaging tool on the cheap side, with a complete connectivity set, a decent camera and a pretty good screen is quite an all-round package to justify robust demand. The performance is very much on par with the specs (save for the video playback, which needs some polishing) so the handset looks in a pretty good position to stand its ground against competitors.
Now, we seriously doubt it that a QWERTY WinMo Standard handset will be able to get anywhere near the iconic status of the Nokia E71 for example, but it's not only the champion that gets a medal, right?
From what we saw, the B7330 OmniaPRO might just be the right device to keep pressure on competing smart messengers. It may be just us, but Samsung are quite keen to keep the Omnia team up and running. Two more PocketPC's are just around the corner, in the face of the B7610 OmniaPRO and B7300 OmniaLITE. Looks like WinMo and Samsung are not gonna give up the business segment to Eseries and Berries without a fight.