Leaked earlier this weekend, the Samsung B7610 Omnia Pro is now officially featured by Samsung in an event held at CommunicAsia 2009. We even have some real-life studio shots of the Omnia Pro.
A certain surprise from this announcement however is that Samsung will also sell a second Omnia Pro handset, but in the bar form factor. That's the well-known Samsung i637 Jack, which will obviously be marketed as Samsung B7320 Omnia Pro.





Samsung at CommunicAsia 2009: I7500 Galaxy • M8910 Pixon12 • B7610 Omnia Pro • B7320 Omnia Pro
Samsung B7610 Omnia Pro previously codenamed as Louvre is a WinMo PocketPC with a sliding hardware QWERTY keyboard, a 3.5-inch WVGA AMOLED touchscreen, 5 megapixel auto focus camera with LED flash, HSPA, Wi-Fi, GPS, FM radio, and a microSD slot ( with support for up to 32GB).
The Samsung B7610 Omnia Pro is powered by an ARM1176-based CPU (with a dedicated graphics acceleration) running at 667MHz. There's 2GB of on-board flash storage and 135MB RAM.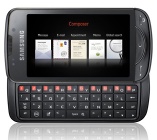 Samsung B7610 Omnia Pro official photos
For now the whole thing runs on Windows Mobile 6.1, but a future upgrade to WM 6.5 is granted. The Samsung B7610 features some heavy WM customization.
Here are all the gorgeous live shots of the Samsung B7610 Omnia Pro shot at our studio:
B
if ur omnia pro b7610 is showing "remote party has ended my internet connection" than make it format to make it clear. for making it formate use the code- *2767*3855#
h
remote party has ended my internet connection , I just do not know why? please help me to reconnect the same.
?
how to upadate windows 6.5 in omnia B7610. i m having 6.1? and also does it require antivirus? what are internet settings? please reply fast really need your help...
ADVERTISEMENTS