This article is outdated. We have already published a full review.
A 5 megapixel snapper
The Samsung B7610 OmniaPRO is capable of taking 5 megapixel photos and capturing VGA clips. There is a dual LED flash to assist with low-light pictures and videos.
The camera user interface is just the same as on its Omnia II cousin. Comfortable and nicely touch-optimized, it has most of the controls you'll need in the two vertical bars on each side of the viewfinder.
The basic options are here - ISO, white balance, default storage, stabilizer, etc. You can see the presence of WDR, which continues to makes its way into many recent Samsung cameraphones. You can switch the default storage between the phone memory and the microSD card. Hip camera features like geo-tagging, face detection and smile shutter are also on board.
Samsung B7610 OmniaPro pulls of decent image quality with a good amount of resolved detail and reatively noise-free photos. However our pre-release unit produced photos with rather low contrast, which look pretty dull at first sight. If you are into post-processing your photos you will probably like this approach as it preserves more image information and gives you more to work with. However the rest of the users would be better off with the processsing algorithm that Samsung usually applies to their cameraphones as it give more punchy output.
Here go several Smasung B7610 OmniaPRO samples for you to check out. Just have in mind that this is a pre-release unit and quite a lot might change before it actually start selling so there's no need to rush to any conclusions just yet.






Samsung B7610 OmniaPRO camera sample photos
The Samsung B7610 OmniaPRO is able to shoot VGA videos at the sweet 30 fps. Recorder in the mp4 format those have pretty decent quality with a decent amount of resolved detail. However the low contrast and undersaturated colors give the videos a rather dull look that won't really impress many users. And since we seriously doubt it that many people are post-processing the videos taken with their phones, we really hope that Samsung will fix this before the handset hits the shelves. It's not a hard task really and we are quite sure the users will be thankful for it.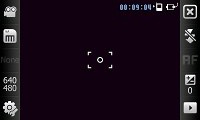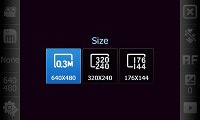 The OmniaPRO in camcorder mode
Here is a sample Samsung B7610 OmniaPRO video for you to enjoy.
Final words
The Samsung B7610 OmniaPRO is a very good handset overall with capabilities that can easily match the HTC Touch Pro2 class-leader. In fact the faster CPU and the AMOLED screen are quite significant improvements that one can receive by choosing the Samsung over the HTC.
Of course the Taiwanese company, has a lot more experience in producing this kind of devices and it shows. The TouchFLO3D UI looks much better suited for business-minded handsets like the two in question, than the multimedia-focused TouchWiz. The new features that Samsung introduced for the OmniaPRO do count here but only for reducing the distance, rather than earning it a victory. One mustn't forget however that those are WinMo handsets we are talking about and porting the interface of one of them to run on the other is just a matter of time.
We are pretty certain that the B7610 OmniaPRO won't sell as much as the Touch Pro2, if only for the larger fan mass that HTC have among WinMo users. However getting pretty close to the best is usually considered a huge success for newbie, let alone beating them at their own game now and then. And it seems to us that the Samsung B7610 OmniaPRO is pretty capable of doing exactly that.