The camera does a nice job
The Samsung B7610 OmniaPRO is capable of capturing 5 megapixel photos and D1 video clips. There is dual LED flash to assist with low-light pictures and videos.
The camera user interface is exactly the same as on its Omnia II sibling. Comfortable and nicely touch-optimized, it has most of the controls you'll need in the two vertical bars on each side of the viewfinder.
The basic options are here - ISO, white balance, default storage, stabilizer, etc. WDR is available, which continues to make its way into many recent Samsung cameraphones. You can switch the default storage between the phone memory and the microSD card. Hip camera features like geotagging, face detection and smile shutter are also on board.
Samsung B7610 OmniaPRO pulls off decent image quality with a good amount of resolved detail and reatively noise-free photos. However the contrast is rather low and brighter areas are often overexposed. On the upside, there is a good balance between the noise reduction and sharpening algorithms, which doesn't blur out the details and doesn't oversharpen the edges either.
Synthetic resolution
We also snapped our resolution chart with the Samsung B7610 OmniaPRO. You can check out what that test is all about here.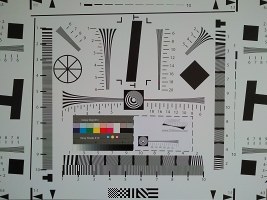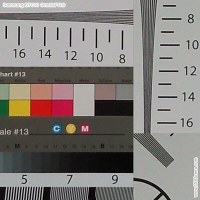 Samsung B7610 OmniaPRO resolution chart photo • 100% crops
Video recording
As far as video recording is concerned, the OmniaPRO can offer D1 resolution (720 x 480 pixels) at 30fps. There is also support for slow-motion QVGA videos at 120 fps.
The camcorder interface is identical to the one of the still camera, except for the fact that some options have been disabled. Pity one of them is anti-shake which would have been really useful here.
Unfortunately, the videos are not as nice as we expected. Compression is waaaay too much, which makes talking about image quality pointless. The so called "slow motion" video capture was a disappointment too - it is limited to QVGA resolution and the frame rate was very low.
Still D1 resolution video recording is quite rare in WinMo devices so we're willing to let that one go without serious grudges.
Here are the sample videos: D1@30fps sample, a VGA@30fps sample, and a QVGA slow-mo sample.
Connectivity could have been better
When it comes to connectivity, the Samsung B7610 OmniaPRO is pretty much as well geared as a handset can be - HSDPA 3.6 Mbps, Wi-Fi, stereo Bluetooth. The lack of faster HSDPA and complete lack of HSUPA are a bit disappointing - the Pro is practically identical to the mid-range Samsung B7300 OmniaLITE.
The network connectivity options of the touchscreen handset include quad-band GSM support and dual-band 3G (900/2100 MHz). In case you are wondering what bands your regional 3G network supports you can check out our Worldwide Network Bands distribution database.
USB 2.0 is supported as well through a microUSB port. When connected to a computer, the OmniaPRO automatically connects in either ActiveSync or Mass Storage mode - whatever you preset in the Settings menu. Unfortunately, there's no option to be prompted every time you pair the handset to a computer.
The OmniaPRO has a microSD card slot to expand the 2GB internal memory. Cards up to 32GB are supported, but unfortunately the card slot is under the back cover.
DLNA and TV-out boost the capabilities of the OmniaPRO - for example, you can view photos from the phone on a DLNA-enabled TV set. Or you could use the OmniaPRO to imbue an older TV with DLNA powers through the TV-out. At any rate, the media connectivity options are thoroughly covered.
Browser: Internet Explorer Mobile vs. Opera Mobile
The Samsung B7610 OmniaPRO comes with a couple of excellent browsers preinstalled to make best use of its rich connectivity. You get Opera Mobile v9.5, plus the new version of Internet Explorer Mobile courtesy of the WinMo 6.5 update. The IE Mobile is this time actually good for something unlike its previous iterations.
Both browsers are supposed to support Flash (we've seen it on other phones) but our OmniaPRO had issues with it. Namely, no Flash content was displayed at all. It seems the Flash Lite plugin was missing - we tried installing it but that didn't help.
Opera Mobile v9.5
If you have been keeping track you would know that the Opera browser is extensively touch-optimized and draws inspiration from the iPhone's Safari. The browser has matured and now exhibits no rendering bugs.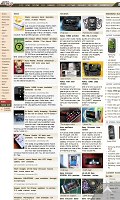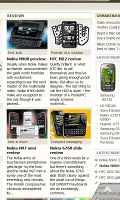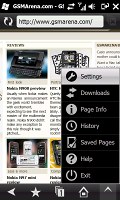 The Opera Mobile v9.5 Web browser
Opera Mobile v9.5 is heavily optimized towards vertical scrolling you can scroll complex pages without missing a beat. Panning sideways is a little slower - a checkerboard pattern appears for a moment before the content is drawn, but this lasts for only a moment so it's no big issue.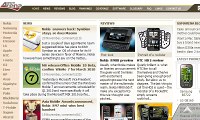 Opera Mobile in landscape mode
Zooming in and out is also very fast. You can use the one-finger zooming pattern that we described in the gallery and it works like a charm much like it did on the original Omnia. Double tapping is also very accurate as it zooms in to where you tapped, eliminating the need for much panning.
The WVGA resolution of the ample display helps navigation a great deal - at the minimum zoom level text is readable enough for you to find the section of the text you're interested in and double tapping takes you straight there.
In landscape mode, the minimum zoom fits most pages, which is extremely convenient as it gives you a nice overview of the site, while the fine text still remains readable.
The browser orientation is changed automatically of course, thanks to the built-in accelerometer.
Internet Explorer Mobile
The latest version of the Internet Explorer Mobile web browser has received a nicer touch-optimized interface and way cooler design. It shares most of the Opera Mobile goodies, like kinetic scrolling.
With the high-res screen we were very comfortable using the desktop mode as web pages look much more natural that way.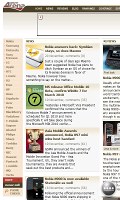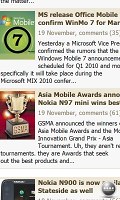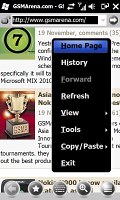 Browsing GSMArena.com on the Internet Explorer Mobile
Zooming though is best done with the double tapping on the IE. It works like a charm, though we would have appreciated the one finger zoom, like Opera's.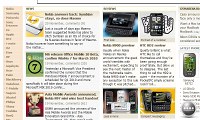 Internet Explorer Mobile in landscape mode
Instead, you have to go through the menu or hold you finger over the screen and go through the context menu to make a slider appear. You can then use it for controlling the zoom but there is no Fit-to-screen mode.
Much like on the Samsung Omnia II, there's no automatic screen rotation in IE despite the built-in accelerometer. Luckily, on the B7610 OmniaPRO you can switch to landscape mode by simply sliding out the QWERTY keyboard.
Lack of URL suggestions as you enter an address was a letdown too. The only help you get is suggestions of the currently typed address with automatically appended .com, .net, .org, etc. The lack of a "Search on page" option was also quite annoying.
Panning and scrolling isn't as smooth as on Opera Mobile, though unlike it, panning sideways doesn't show the checkerboard pattern. The high resolution screen fits plenty of text landscape, but it's quite annoying to have to wait for the checkerboard sections to be rendered and displayed.