TouchWiz 2.0 gets a plus
The Samsung B7722 runs TouchWiz 2.0 Plus – it's much like the older TouchWiz versions but with many Bada touches to it. Plus stands for the several updates the UI got since the initial release of version 2.0.
Most of the TouchWiz 2.0 Plus will feel comfortably familiar to long-term Samsung users, and it's intuitive enough to welcome newcomers too.
Although technically a feature phone, the Samsung B7722 comes with a rich app package and there is of course support for Java, so you can install games and even apps.
The TouchWiz homescreen is widget-based and you can put as many of them as you can fit – but you only get three homescreens and you can't add more.
Tapping the Widget button lets you pull out more widgets (or stash some away). The tray with widgets is at the bottom and works the same way as it did before. On the same line as the button are the three circled numbers, which indicate the currently active homescreen pane.
In case some of you have missed it, widgets are nifty mini-apps that reside on your home screen. Some of them seem to have more purpose, such as the calendar and world clock, image gallery or the mp3/radio players, while others range from fun to pointless.
You can download new widgets too – there are currently 21 items available.
The main menu stretches over several different screens (up to ten), which are swipe-scrollable sideways. All apps (save for the user-installed Java apps) are accessible from this menu, so you won't have to frequently dig through several levels of submenus.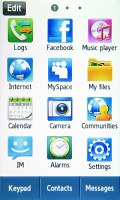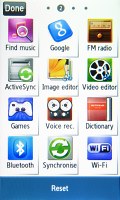 The main menu has a flat iPhone-like structure
The B7722 also has a Task manager. However, you'll be able to see it only if the phone runs out of memory and you need to close one or more running apps in order to open another application. So, switching between apps is actually impossible.
When minimizing Java apps you can choose to suspend the app (which stops it from working until you get back to it), or you can let it work in the background (which may incur data charges).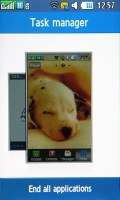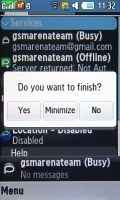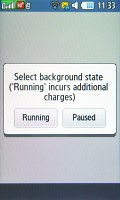 Task management is user independent • Pausing a currently running app
The Samsung B7722 features the Smart unlock feature, which uses letter patterns to unlock the phone and can even launch an application automatically after the unlock.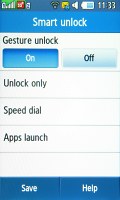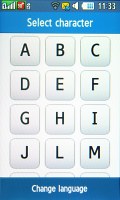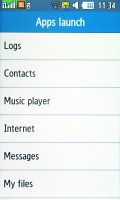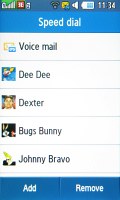 The smart unlock is enabled on the B7722
The Etiquette pause feature is also available – that's just another name for "turn to mute".
The Samsung B7722 with its TouchWiz interface is mostly hang-free but there are occasional lags in the image gallery when browsing 5MP images and with heavy pages in the browser.
SNS widgets and apps, no phonebook integration though
The B7722 comes with social integration in the shape of four neat homescreen widgets - MySpace, Facebook, Twitter and Bebo, and MySpace and Facebook get dedicated apps as well.
The four widgets have similar interface – a big update button at the top, a text field for your current mood/status message and some buttons at the bottom.
In the MySpace widget, the available options include checking your messages, getting into chat and adding friends.
The Facebook widget offers checking your messages, adding new friends and the last option is poking a friend.
Finally, the Twitter widget has only two virtual keys – friends and followers. The Settings button is available at all times, for auto-refresh or adding a photo.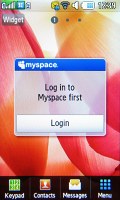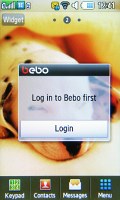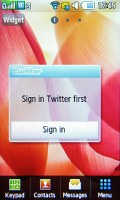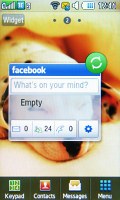 MySpace, Facebook, Twitter and Bebo widgets
As you see, the widgets aren't exactly full of features, but the basics are covered. For more features, MySpace and Facebook have dedicated apps you can use.
The Facebook app shows your newsfeed, the wall and photos for you and your friends, messages, notifications and requests – basically it supports it all. It can compose new messages too and upload photos.
The widgets can access the Internet over Wi-Fi, so you don't need to worry about extra data charges. The MySpace and Facebook apps refuse to work in offline mode for some reason, while the widgets don't have this limitation.
The Communities application gets you links to websites such as Facebook, YouTube, Picasa, Flickr, Photobucket and more where you can upload photos and videos. You can also save your login details so you don't have to enter them each time. You can set it up to automatically resize photos and even schedule updates.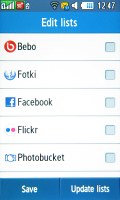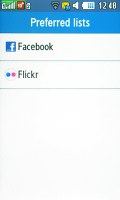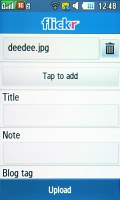 Communities list • Uploading a photo
That pretty much covers what Samsung have been doing in the social networking department. Unfortunately, there's no phonebook integration, the kind you might expect in some smartphones.
Still, the Samsung B7722 will let you chat, update your status, post tweets, upload photos and read your friends' new posts.