The usual Samsung phonebook
The phonebook of the Samsung B7722 has it all. Up to 2000 contacts can be stored with multiple fields. It can display the names on both SIM cards, the phone memory or all at once and move and copy contacts between them (including from one SIM card to another). Searching is done by gradual typing of the desired contact's name or via the alphabet scroll.
One annoying thing about searching by gradual typing is that it doesn't support text prediction – that is if you try to type "DE" for Dexter, you'd have to tap the 3 key, wait a while and tap it again. Two quick consecutive taps won't do: you'll get "E", unlike typical smart dialing, which works in a similar manner to T9.
While viewing a contact, tapping the button next to each phone number brings up a pop-up with three buttons – regular call, video call and Send Message. The Call button in the contact list does only voice calls however.
You can add a number of different fields for each contact - up to 5 numbers, 4 email addresses, URLs, notes and so on. You can also assign individual ringtones for both calls and messages, a photo or video for Caller ID, even choose one of five vibrations for incoming calls from that contact.
A handy feature, if you'll pardon the pun, is the ability to switch between left and right handed modes. This switches the position of the alphabet scroll only, the Call button next to each contact always stays on the right.
Dual SIM telephony
Making calls is always a priority for any cellphone – the Dual SIM ability certainly holds the Samsung B7722 to a higher standard. We experienced no reception or voice quality drops for the time of our review.
The handset supports Smart dialing – type in the first few digits of the number and a suggested contact will pop up. To search by gradual typing of names, you can use the phonebook.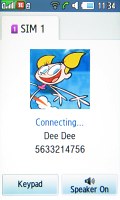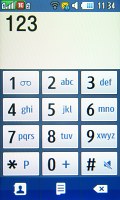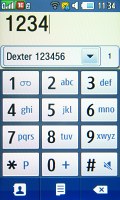 Making a call • the virtual keypad
To choose the SIM card (SIM 1 or SIM 2) to place the phone call on, you have to press the dedicated button on the right-hand side of the phone. You can do that anytime before you hit the hardware Call key.
You even have the option to automatically schedule which SIM card is to be default for outgoing calls according the time of day.
SIM card indicators are displayed in the top left corner of the screen. The one currently in use turns green.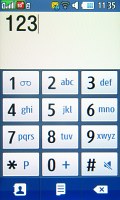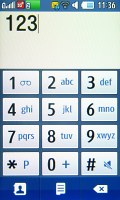 Switching between the two SIM cards
The Buddy list widget (a.k.a. Photo Contacts widget) is a fun way to browse your favorite contacts – it uses a fake 3D environment and shows up to 8 contact pictures in an arc. You can scroll them up and down and dial the one you want. It's a gimmicky interface, and we don't think it will be practical in everyday use.
The B7722 also comes with a pretty extensive Call Log application, which tracks anything from calls, data (network data only, Wi-Fi traffic is not included), messages sent, call durations and so on.
The Log is accessible from the main menu. It does reasonably well to accommodate the dual SIM functionality. It displays the type of call (incoming, outgoing, etc.), the SIM card used, the caller number/name and the number of calls. When you select a log entry, you can see the entire call history, including the time and date, as well as the call duration.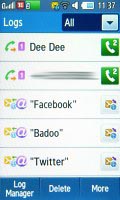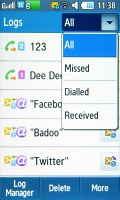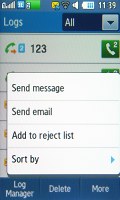 The Logs app keeps extensive records
As for loudspeaker performance, the B7722 scored a good mark. Here it is alongside some of the other devices we have tested. You can find more details about the test itself as well as the full list of tested devices here.
| | | | | |
| --- | --- | --- | --- | --- |
| Speakerphone test | Voice, dB | Pink noise/ Music, dB | Ringing phone, dB | Overall score |
| Apple iPhone 3G | 66.1 | 62.1 | 71.7 | Below Average |
| LG KC910 Renoir | 69.7 | 64.7 | 70.9 | Average |
| Gigabyte GSmart S1205 | 67.6 | 75.7 | 66.6 | Good |
| Samsung B7722 | 74.3 | 67.6 | 76.3 | Good |
| Sony Ericsson XPERIA X1 | 75.5 | 66.6 | 82.7 | Very Good |
| HTC Touch2 | 75.7 | 75.7 | 82.7 | Excellent |
Messaging with virtual QWERTY
As you might expect, the Samsung B7722 handles all common message types. The handset has a shared editor for SMS and MMS and a separate one for emails. You can activate delivery reports to receive notifications when the messages have reached the addressee.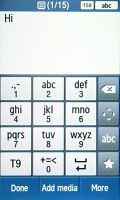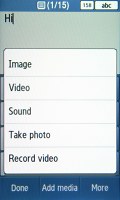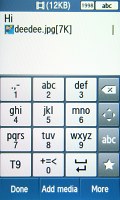 Messages menu • composing an SMS
The native email client does not have an option for automatic settings retrieval so we had to enter them manually, but once that's done, emailing is a breeze. The email client also supports push messaging.
The attachment limit for sending is 5MB, which is enough for most file types. If you receive an office document as an attachment, you will be able to view it as well thanks to the integrated office document viewer.
As to text input options, the B7722 managed to impress us with its decently sized virtual landscape QWERTY keyboard, which is a nice addition to the onscreen portrait 12-key multitap keypad.