A good 5 megapixel camera
The Samsung B7722 is equipped with a 5 megapixel camera that can take photos with a maximum resolution of 2560 x 1920 pixels. Along with autofocus you get a LED flash; there is no lens protection.
A nice surprise, the camera has a number of extra features like smile shot, preset scenes, viewfinder gridlines and panorama mode. There is no geotagging, though.
The camera interface is nicely touch-optimized – it's almost the same as on the Samsung S5620 Monte.
The camera on the Samsung B7722 is actually pretty good. We're used to seeing images affected by too aggressive processing. Well, this is not the case here. The images taken with the B7722 will probably need some final touches made on a computer. But we'd rather have that than photos ruined by too harsh internal processing.
The photos have low contrast, which makes them seem a bit dull, but at least there're no blowout. There isn't much noise to see and we were glad to notice that there were no artifacts caused by oversharpening. As for fine detail, it's fair for a 5-megapixel shooter.
Video recording
The Samsung B7722 offers video recording too, but it's nothing to get excited about – it only manages QVGA at 30fps. It's ok for MMS or for watching on the phone screen but nothing more than that.
Here is a video sample for you to check out.
Connectivity is well covered
The Samsung B7722 has quad-band GSM support so it's usable worldwide and it also packs 3G support on the 2100 band. There's 3.6Mbps HSDPA support for faster downloads. However, keep in mind that 3G is only supported for the SIM 1 card. For data-intensive tasks you also have the option to use Wi-Fi. The Wi-Fi manager is the standard Samsung one and will do the job perfectly.
Bluetooth is available and it comes with A2DP support. The microUSB port for syncing and data transfers is also on board and it can charge the phone off a computer. In mass storage mode, you can access the memory card but not the built-in memory.
There is no 3.5 mm audio jack on the device itself but an adapter is enclosed in the retail box.
Web browser is great (when it works)
The Samsung B7722, like other Samsung feature phones, has the WebKit-based Dolfin web browser. With Flash support and one-finger zooming, it is one of the better web browsers we have seen on a feature phone.
The Dolfin browser also supports double tap for zooming to a specific part of the page and zooming back out. The browser also offers kinetic scrolling and fullscreen view.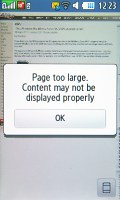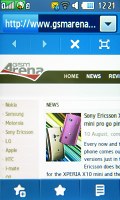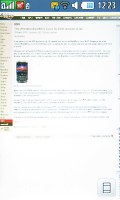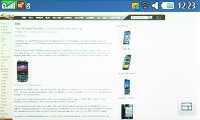 The web browser is great when it works, but is known to play up
The actual zooming is slow – it takes a couple of seconds to redraw the content when zooming in, but the panning and scrolling are fairly smooth (only longer pans lag a bit).
The Flash support extends to include full featured YouTube videos but the B7722 fails to make full use of those. It either has insufficient system memory or memory management lets it down.
We didn't manage to play a video on YouTube, not even on other video sharing sites. Flash games also failed to work. The browser kept throwing "Page too large" errors each time we tried to zoom in, even after a fresh restart.
All this makes the browser very frustrating to use on content-heavy pages, but when the browser works - it's great.
By the way, you could always pass on the preloaded web browser and go for the nice and zippy Opera Mini, which is said to cure the out-of-memory problem.
Organizer and apps
The Samsung B7722 has a number of useful time-management applications.
For starters, the calendar offers three views – daily, weekly and monthly. You can choose which calendar view should be default and you can pick the starting day of the week – the options are Monday or Sunday. There are two types of events – Schedule and Anniversary – and you can choose the starting date and set an alarm to act as a reminder.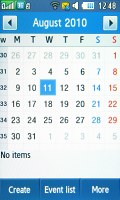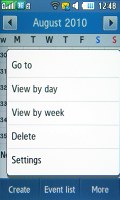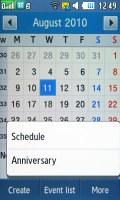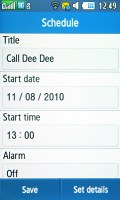 The calendar monthly and weekly view modes • setting up an event
The alarm is fully customizable. You can set up to 10 alarms, each with a custom ringtone, volume, repetition days and name.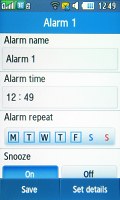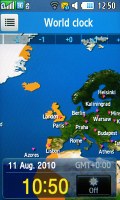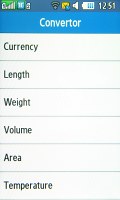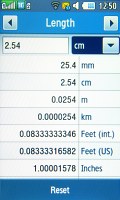 Alarm clock application • world clock • the nice unit converter
The calculator of the Samsung B7722 is very basic. Among the other organizer offerings are a voice recorder, a world time application and a unit converter. The voice recorder limit is set to 60 minutes. A countdown timer and a stopwatch also come in useful.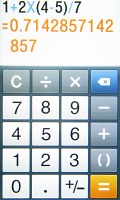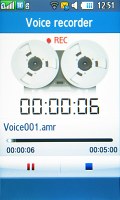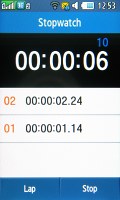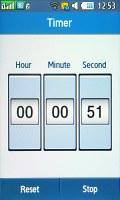 The calculator is simple • voice recorder • stopwatch • timer
There are also to-do and memo applications for jotting down tasks and notes. You can also use the memo widget to place a memo on the homescreen where you're unlikely to forget it. The widget and the application are separate so don't expect your memos to automatically pop up on screen.
The B7722 comes with a Dictionary app, which works for English and can save words in the "My Vocabulary" list.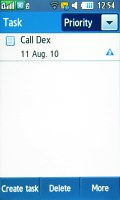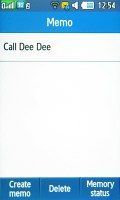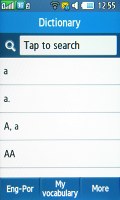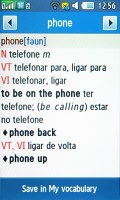 To-do list and memos • the Dictionary app
The Samsung B7722 comes with an office document viewer that supports Word, Excel, PowerPoint and PDF files. It's an application developed by Access and is one of the great additions to the software package. It supports Office 2007 files and one finger zooming.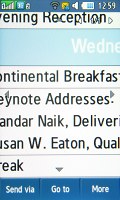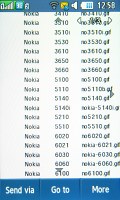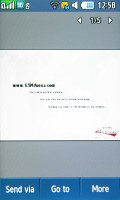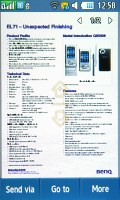 Samsung B7722 is good at handling office documents
The document viewer is quick enough when opening files and panning is quite fast. However when we tried to open our PowerPoint test file, the phone spat out a memory error.
Organizer and apps
Exchange ActiveSync support is also enabled, which should appeal to corporate users. There's even a handy widget, which lets you sync, compose new email, check mail and toggle push messaging. It can be minimized so it doesn't take much space.
The Samsung B7722 features the Palringo instant messenger preinstalled. It supports various protocols – G-Talk, ICQ, AIM and MSN. It can handle multiple chat sessions at once and has the option to share your location. Registration is easy and adding new services is pain-free as well.
Even if the B7722 lacks a built-in GPS receiver, it comes with Google Maps preinstalled. It has all the usual features and can be quite handy at times.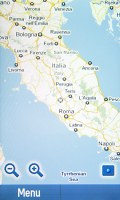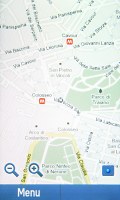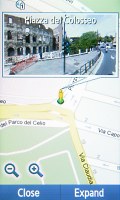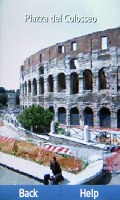 The well-known Google Maps application
Finally, the Samsung B7722 comes with 5 game titles on board – Monopoly, Millionaire, Brick Breaker, Brain Challenge 2, and Asphalt 4 WCG. All of them are demos only. There isn't even a single full version game preloaded.