Exactly one year after kicking off their development, the 5G modem and 5G RF chips are entering mass production. The Exynos 5100 modem, the Exynos 5500 RF transceiver and the Exynos 5800 supply modulator support the 5G New Radio and sub-6 GHz spectrum that are needed for gigabit speeds.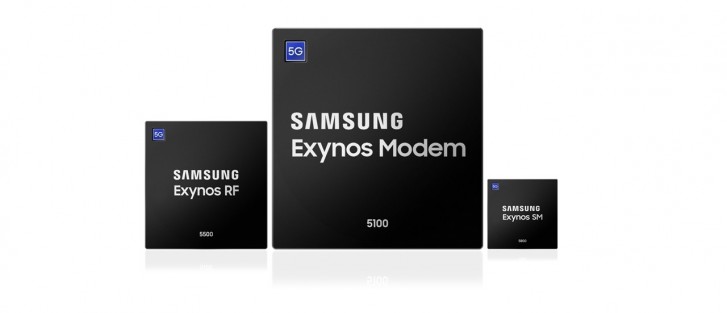 While the Exynos Modem 5100 is not a new product, it is finally hitting the pipelines, meaning it should be available for distribution to smartphone manufacturers pretty soon. It can support virtually all networks - 2G GSM/CDMA, 3G WCDMA, TD-SCDMA, HSPA, and 4G LTE, all in a single chip. In order to stay reliable and power-efficient, the Korean company suggests coupling them with the two other new components.
The Exynos RF 5500 has 14 receiver paths for download, and, to nobody's surprise, supports 4x4 MIMO and 256QAM to maximize the data transfer speeds. The Exynos SM5800 provides low-power supply with its support up to 100 MHz ET bandwidths. By adjusting the supply voltage according to the modem's RF input signal, the modulator can lower the power reduction with 30%.
x
I think supporters of Apple Brand can only hope Intel can speed up development a bit, as two years behind competition (5G services have already been launched in Korea and soon in USA at the time of writing) may lead to tragic result for Apple.
D
Ask them - is that so hard?
ADVERTISEMENTS