The Samsung Blue Earth is a solar powered, eco-friendly phone and it quite looks the part. Samsung say it was designed to resemble a rounded pebble and with the solar rear panel users can always count on enough charge to make a call. There's a regular DC charger for a rainy day too, which Samsung claim is highly energy efficient.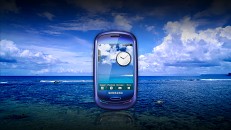 With an ultra low standby power charger and a recycled paper retail box, the Samsung Blue Earth has no other choice but follow suit. The handset is made of plastic from recycled water bottles and Samsung claim it's free of harmful materials.
Although we have seen other phones made from recycled materials, the first solar-powered touchscreen is really trying to provoke the user to be "green". A special "eco mode" puts a leash on power hogs like the screen and Bluetooth and sets them running in an energy efficient manner.
The step-counting function found on many devices with accelerometers has a new spin to it. It calculates how much CO2 would have been released if you were to make the journey by car and the units for this calculation are the number of trees saved.
The Samsung Blue Earth will be showcased at the Mobile World Congress so more details should be available soon. We're on our way there and well… we wish we walked or biked.
D
hope is financially friendly too... he he
r
that "small" thing costed a lotta money and efforts..
S
It seems to be a well rounded phone. Change one small thing like having to charge your phone to make a differance in the world. Well done samsung
ADVERTISEMENTS