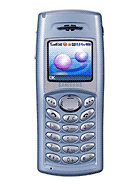 m
I think it's quite striking...but then again I'm a lover of Nokias. 'Nuff said.
s
base on new invention that has full the market, i strong belive that c110 is the type of hand set that fits me.
so please tell me how you can send just one to me. i will be very grateful if iam being given this chance to get one.
d
The successor to the Samsung C 100, the GSM based dual band C 110 is similarly meant for the lower end of the mobile market. Having a bar type form factor, the C110 has all the bare essentials for being called a cell phone. Being a budget phone, this handset scrimps on features such as camera and the lot which are absent; the only exception being a beautiful 65,000 colors UFB display.
A
Just a little improvement, but a good phone comparing to nokia at the same price.
Total of 87 user reviews and opinions for Samsung C110.