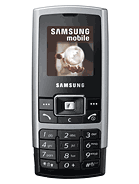 ?
I think its not a good set at all...It has lower options than Samsung X100.Which is very old model.
?
Look is very good Can we change the software using i mean is it worth to but a data cable for this phone
s
this is what phones are supposed to do, unless you can trough out your photo, video camera...
thats why it only weighs 75g.
so basicly its an emergency phone.
i like it
m
this is a basic color phn...great look and great feature at this price..gud luck samsung
K
Just a basic phone with 'Ultra' series look.
For features there are lot many models to look at.
S
THE Design Of the Phone is really gr8. BUT why it doesn't hav anything, like camera, infre port or bluetooth... can any one tell me wat is da speciallity of this phone??
Total of 228 user reviews and opinions for Samsung C130.