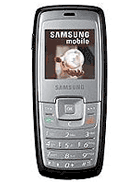 f
i love this phone...this is simplicity with features with affordability at its best.....
h
this mobile is very beatiful and pretty but it has a low battery,small memory and till now i cannot have a ringtone or game for it please if there is a cable for it and a website to have some features for it like games ,ringtones,wallpaper,......thanks alot for all of you
s
congratulation samsung...its very affordable and smart fone.
m
a very nice budget phone with
SPEAKER
WAP
Voice Memmo x 3 (30sec)
Light weight
Poly tones
Nice Battery Time
look sleek and cool
keypad is very yummy
very soft for msging
Large numberic display

In 3000 PKR or 60 USD
this is a cool phone
go for it
F
preety ... !!!!! Good and slim nice phone
i think people will like this as compare to c130 Samsung.

?
this is for the low end market but the problem with samsung is their low end phone are still quite expensive if you compare it with nokia's. hope this one will be much cheaper.
Total of 215 user reviews and opinions for Samsung C140.