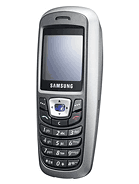 A
Good slim phoee, really light, great color, even though has a few drawbacks.
The phone is generally slow, especially when you unlock the keypad, gets switched off once in a while, even though it will be back to normal once you restart it.Another drawback is that you cant enter new word which is more than 4 letters into the T9 dictionary . But the memory capacity is really superb,and the wap is good, the sound is better than nokia pones in its class. But the best feature of this phone is its price. So this phone is for the price conscious buyer who wants a lot of functions but will compromise on the processiing speed of the phone
G
Can anyone help me make choice between a Samsung C210 and C200 please i'm really confused.
S
I just buyed this mobile this is great in look, slim and light, with high resolution and ample memory for storing mobile numbers, office, home numbers with email address its simply great. This is far ahead compare to nokia mobiles at this price range.

?
C210 is triband whereas C200 is dual band. C210 is also a little bigger and has a very good battery life.
o
I just cant get this, WHAT IS THE DIFF between C200 and C210 in functions except color n key-structre! Wat is samsung doing? Are they trying to making some "WORLD-RECORD of most fone-models released by a company" ?? seriously, this is insane :( When C230 arrived, OK it had RADIO, but whats different except a bit of color and structure of keys between the this n C200?
j
nice design! but too bad samsung prefers making slider and clamshell phones its high-end phones. samsung should try to emulate sony ericsson. i wouldnt buy this phone as it is now. but i would if it had a 2.0 megapixel camera, bluetooth, ample memory. mp3 player, video recorder and a 2-inch QVGA screen. i hope samsung reads this comment!!!
M
Looks brilliant.Colour phone with excellent and exciting features.Far ahead from Nokia . Has super clarity screen.Will Certainly do very well in India.It has looks and class
Total of 88 user reviews and opinions for Samsung C210.