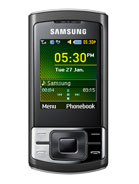 b
Anonymous, 28 Apr 2009i also got one, but not a big diffenence in camera quaility comparing with another fones in th... morei think they made a mistake by taking out this phone. oooops
J
waouuh, I also been trapped by this phone. I am not surprised to watch unhappy people here.
On top of what has been said, this phone needs higher battery. I used the MP3 player couple of minutes and some short calls and I have to charge the battery each 2 days. Is it normal ? I dont think so.
The interface is very cheap as well.
I am OK that it is a low cost phone but for the same price you have better Samsung phones than that.
Is Samsung change their quality system to bring such phone on the market ?
?
This phone is just a joke ! My girlfriend got it and the interface is so ugly. Even lower price Samsung phone have a better and fuild interface.
My quick feedback:
- Camera is very bad quality: indoor, outdoor, colors ...
- SD card access is very (very!!!) slow. I am wandering if Samsung dont have a problem here.
- USB access is very slow as well. I am not sure if it is really USB 2.0.
! Do not buy this phone ! It is very poor quality one...
?
i also got one, but not a big diffenence in camera quaility comparing with another fones in this price range.
i satisfy the design, mp3, bigdisply
btw, don't samsng have another colours of it?
P
I recently bought this phone at a really good price but have to agree with other comments made from other reviews that the camera not great and found it hard to download from pc too.
?
I just buy this phone and I am not fully satisfied.
Even considering his low price, the camera took crappy pictures (bad colors) even in outdoor. Downloading from the mobile to the PC took so much time (VGA pictures only!).
The user interface is a bit laggy as well.
I am pretty convinced that you can find better phones than this one. Samsung is used to do more and more quality products but tis time I am really wondering why it is so ...
I had the feeling to come back 4 years ago with Samsung phones.
Please try it before buy it.
R
Nice fone.perfectly 4 me who want a secondary fone 4 music that have bluetooth n ex memory card.since my primary fone is soul b.so i cant wait this fone comes in indonesia,come on samsung...make it fast to drop this fone in my country,please...
Total of 613 user reviews and opinions for Samsung C3050 Stratus.