TouchWiz goes on a diet
TouchWiz is the go-to UI for Samsung when it comes to touch phones. The screen on the Champ however is too small to comfortably house widgets, so Samsung put it on a diet.
TouchWiz Lite looks just like its sugar-rich sibling – it's lively and colorful, it's pleasantly thumbable and it has widgets. You can switch to another theme – Choco Cookie – which brings a cartoony look to the menu.
Widgets are a key factor in the touch experience so we're glad to see that Samsung have kept them in the Lite version of TouchWiz. There's a one widget per homescreen limit but you get up to 7 homescreens.
The first homescreen is limited to just an analog or digital homescreen, but the rest offer more variety. There's a calendar widget, photo contacts widget, profile and memo widgets. There's a dual clock too, along with a wallpaper switcher and two shortcut widgets.
You can only use a widget once, hence the two identical shortcut widgets. Each widget holds up to four shortcuts – they give instant access to the variety of functions that the Samsung C3300K Champ has to offer - anything from accessing the Internet to the FM radio.
When you have a new event (e.g. missed call, new email) a tabbed widget (a tab for each kind of event) appears on the homescreen overlaying the widget below. It's on all homescreens so you need to dismiss it before using the other widgets. The music widget shows up when the music player is active – it replaces the clock on the 1st homescreen.
At the bottom of the homescreen are three fixed shortcuts – dialer, contacts and menu.
The menu displays a 3 x 3 grid of icons and has three pages you can sweep through. The icons themselves are the latest batch that Samsung uses – on its Bada OS and TouchWiz for Android. The cartoon theme switches those icons and the font, but leaves the homescreen untouched, which isn't very consistent.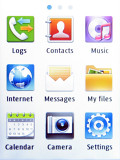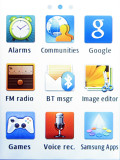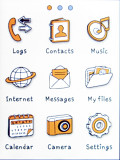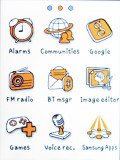 The main menu • the Choco Cookie theme
The Samsung C3300K Champ supports Java apps, so you can add games and small apps (among which Opera Mini). It lacks multitasking though, so you can't have several apps open at once, or even minimize apps.
Interestingly, the UI has taken a bit of a S60 approach to touch – in some menus (e.g. the Contacts app) you tap once to select and a second time to activate. In the Messages app however it's one tap to activate. This is quite inconsistent and it makes interaction with the Champ more complicated.
The situation with the haptic feedback is similar – some taps have feedback, others don't depending on what you're tapping.
The phonebook has some rough edges
The Samsung C3300K Champ has a pretty good phonebook, but it's let down by some rough edges. It can store up to 1000 contacts with various fields – more than enough for its young users. It can show contacts from SIM card, phone or both, change order of names and so on.
You can assign photos to the contacts too, including some cartoony preset images. The whole tap to select, tap again to open thing lets down usability though. Searching is handled poorly too – you tap Search, enter a few letters (on a 12-key virtual keypad) and press done to get your search results.
You can add contacts to groups or mark up to 20 contacts as Favorites. Additionally, you can have four contacts on the homescreen using the My buddies widget (a simple photo contacts widget).
Telephony is nice
The Samsung C3300K is very good at its primary job – making phone calls. We had no reception problems and the in-call sound quality was good, though a bit too quiet even at the loudest setting.
There's not much to say about the dialer. You dial just like you would on any touch phone. There are several buttons – contacts, call logs and favorites shortcuts, as well as virtual make call, send SMS and add contact buttons.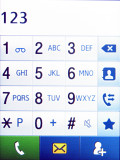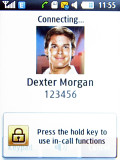 The virtual keypad • making a call
That's about it - there's no smart dialing (you should use the phonebook if you need to search for a contact), not even a proximity sensor. During a call, the screen is locked, though you can unlock it with the dedicated Hold key.
The My Buddies widget lets you keep four of you most important contacts on the homescreen. There are no fancy spinning effects this time round and you're limited to just four contacts, but it's still quite useful.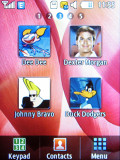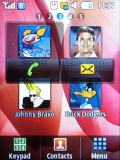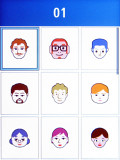 My Buddies • some preset contact photos
As for loudspeaker performance, the C3300K Champ scored a good mark. Here it is alongside some of the other devices we have tested. You can find more details about the test itself as well as the full list of tested devices here.
| | | | | |
| --- | --- | --- | --- | --- |
| Speakerphone test | Voice, dB | Pink noise/ Music, dB | Ringing phone, dB | Overall score |
| Nokia 5230 | 65.8 | 60.3 | 66.7 | Below Average |
| Samsung C3300K Champ | 75.2 | 68.8 | 70.7 | Good |
| Samsung M5650 Lindy | 73.1 | 69.1 | 77.8 | Very Good |
| Samsung S3650 Corby | 75.7 | 72.0 | 77.1 | Very Good |
| Samsung S5230 Star | 82.7 | 76.0 | 80.2 | Excellent |
| HTC Smart | 74.9 | 73.5 | 80.9 | Excellent |