Messaging depends on T9
The Samsung C3300K Champ can handle all common message types. SMS and MMS share and editor and there's threaded messaging too. Email has a separate inbox and editor.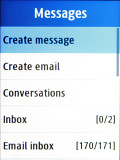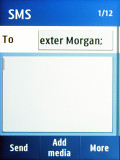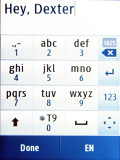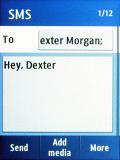 Messages menu • composing an SMS
Typing on the Champ relies on a virtual 12-key keypad. There's no landscape QWERTY but you do get a rich T9 dictionary to help speed things along. However, some regional variants like the C3303K do have an on-screen QWERTY, others (like ours) do not.
There is also a native email client. It retrieved the settings for our Gmail account automatically and in seconds it was ready to go. You can set the Champ to retrieve new emails automatically on with some preset period and choose whether to download the whole email or just the headers.
Social networking support is too limited
We were excited to see the Communities app on the Samsung C3300K Champ, but excitement quickly turned to disappointment when we found out it wasn't the one we're used to.
The one on the Champ just serves as a list of shortcuts to the social networks rather than provide some native support. One of the key features of the Communities app used to be the file upload – it could upload multiple files, to multiple services, automatically downsize photos before uploading and schedule the uploads.
It was a great feature but it's missing here. There are no SNS widgets either, which offered always-on Twitter connection. The Samsung Corby did a much better job at handling social networks and we were expecting more from the Champ.
Still, if you settle for using the browser to access the mobile site of the social networks you could use them, but that's hardly what we'd call social networking support.
Good file browser, doubles as a gallery
The C3300K Champ's file browser can display the files and folders from the phone memory or the memory card, and even both at once.
There are preset folders for images, videos and so on, but you can freely create your own folders and use those instead. Initializing microSD cards is quick and you can manage (move, copy, delete) even files that aren't supported by the Champ.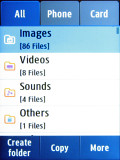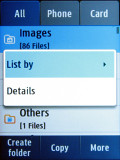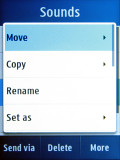 The file browser is quite efficient
There's a quick shortcut to send a file over MMS, email or Bluetooth.
Other than that the file browser is pretty good. It can handle folders, lock files to prevent accidental deletion and order files and folders by name, type, time and size.
The C3300K Champ gallery is an inherent part of the file manager and launching it is as simple as opening any folder that contains images.
Once you open a picture to view, you can sweep your fingers across the screen to see the next image without having to return to the image list. Browsing the images is fast enough, especially when viewing the small-sized photos from the Champ's 1.3MP camera.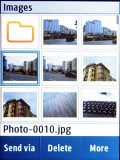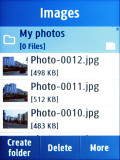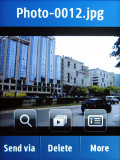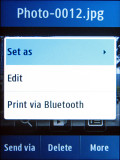 Browsing photos • Viewing a single image
You can view photos in landscape mode by tapping them (there's no accelerometer). To zoom in, you'll have to use the virtual zoom keys or the volume rocker. Zooming and panning are again decently fast, depending on the size of the photo you're viewing.