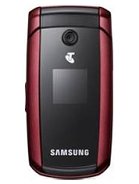 S
this phone looks like its from 2005... i like the high tech touchscreen phones Samsung has been making...
M
5th! Good ol' Samsung design! I guess they got tired of makin very advanced fones...
F
it looks strange enough after omnia hd,or samsung did invent the time machine?back to the future lol
Total of 126 user reviews and opinions for Samsung C5220.