Samsung senior VP of product strategy Yoon Han-kil revealed to Reuters that the company is confident its latest flagship sales of the Galaxy S5 will eclipse last years' Galaxy S4 device. The company more than doubled last week's launch market compared to that of the S4, making the new flagship available in some 125 countries globally.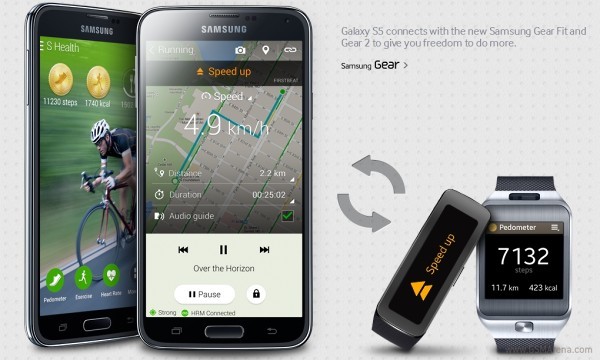 Expectations of good S5 sales are high in Samsung's camp, as the company has grown increasingly reliant on its mobile business, which generates 70% of its overall profits. The high-end smartphone market in particular has been strained of late due to competition from low-cost Chinese manufacturers like Huawei and Lenovo.
While many saw the latest Galaxy S5 flagship as only a cursory update to the S4, this latest flagship launch has reflected a shift in strategy from the Korean giant. No longer content with packing in gimmicky features (the S5 packs only 40 preinstalled apps compared to the 50 on the S4), the company is more focused on selling the device in as wide a market as possible.
Yoon also discussed the launch of a premium Samsung smartphone running Tizen in the second quarter of this year, followed by a midrange model later on. The oft-delayed Tizen devices from Samsung are an attempt to alleviate its reliance on Android, and generate a stream of revenue from its own third-party apps and services.
Also revealed were plans for a new Android-powered smartwatch later this year, alongside hints at a new Galaxy Note device sporting a "new form factor" in the second half of this year.
D
Only 40 million? S3 was sold in 50 million units in the same time : http://www.gsmarena.com/samsung_galaxy_s_iii_global_sales_reach_50_million_-news-5709.php And they predicted that they will sell 80 milion till end of 2013, and 4 month after th...
D
You might have not noticed,but u'r a good learner..this is how u do it "short and sweet" Nooo! How can u do it? I am dieing here to b in ur list..lol..get a life..
D
You again have written the same thing I was writing for the last two days. One thing you can't be 100% sure is the probability of S4 if not launched region wise, what would be the impact on customers. I can't comment on much since its something nobod...