Yesterday we got indications that the Samsung Galaxy S II launch will be delayed by as much as a month. But now Samsung stepped up and announced (via Twitter) that the Samsung Galaxy S II flagship will still arrive on time in April to scheduled markets.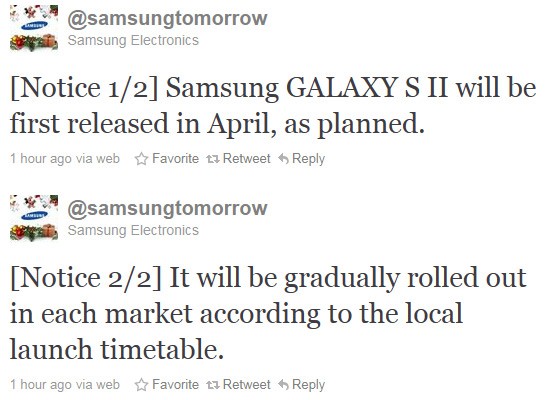 Unfortunately, there's no concrete information about which markets will be getting the Galaxy S II first.
The company also said that the device will be "gradually rolled out in each market according to the local launch timetable". It sounds laconic enough. It may mean that the Galaxy S II will hit everywhere, just gradually, not in huge numbers. Or that key European markets will be getting it first. We can only guess.
We're yet to see what's what with the Galaxy S II. As you know it already came in for a preview and we're currently working with it.
New phones are always exciting, but would you care to share with us how you use your current phone? Take our 2-minute survey HERE!
l
Which are the Android 2.3 options with a QWERTY Keyboard? In abscense of the Nokia N9 project, I'm looking for the Galaxy S II, but with a QWERTY Keyboard. I think it should be the best option, even considering the latest Torch, htc, etc though...
a
i want to purchse ths phn. shld i? plz tell me
?
BTW, N8 looks like a cigarette case..and the aluminum shell doesn't help either.. ;P I have always wondered whats going on in Nokia.. why they take so long to put out a 1ghz flagship phone? Since start of 2011, almost every phone is 1 ghz atlea...
ADVERTISEMENTS