We are only days away from the Samsung I9000 Galaxy S market release but its RAM capacity is still causing a debate. So we contacted Samsung and asked them to clear this out once and for all.
Initially there was no information about the Galaxy S RAM capacity on the Samsung websites and rumors put it at either 256 MB or 512 MB. After we received our review unit we checked out its system information screen, where it reported a total of 256 MB RAM.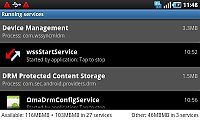 Our Samsung I9000 Galaxy S review unit only had 256 MB RAM but the final ones will come with 512MB
However, after seeing the feedback, where lots of sources were claiming that the phone actually has 512 MB RAM, we decided to investigate into the matter and contacted Samsung. As it turns out our pre-release unit reported its total RAM capacity inaccurately and the market-ready Samsung I9000 Galaxy S will pack 512 MB RAM.
We thought the phone was great enough even with a quarter gig of RAM on board but now we are absolutely convinced that the Galaxy S is the ultimate Android smartphone for the time being.
Meanwhile Samsung's other Super AMOLED equipped handset, the S8500 Wave, was officially confirmed to have hit the shelves in Europe. Germany, France and UK will be the first three countries to get the Bada pioneer with the rest of Europe to follow soon.
R
I recantly bought galaxy i9000 but ram was showing only 326 mb y and what i the reason give me
l
i jus bought a si9000, but the phone does not show dat it has 512 mb ram,it shows 324, can u plz explain??
H
Froyo is available in KIES. Just connect your phone to your PC and start KIES. Just follow the instructions that KIES gives you - and your phone will have Froyo. Dont have KIES ? Download it here : http://www.samsung.com/uk/support/detail/supportP...
ADVERTISEMENTS