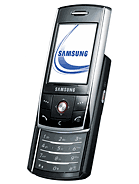 R
Frankly, I can't understand the policy of Samsung!!
No doubt that the last few models ,which was released by Samsung or had been announced to come soon , are stunning, but again why we see nowadays a breath taking model like D800 & yet when it comes to the specification it is very poor!! No radio, no flash, no good cam, no second cam & even it is not G3!!
If we want to compare it to the new coming models announced from Nokia or Sonyerrecson & siemens...Etc I am sure that we will feel sorry for the stunning design of Samsung which is a waste when it is equipped with such poor specifications!
Thanks

s
this phone is out in South Korea (pitty it's in CDMA type). I'd have to say, it's looking pretty damn GOOD!!!!!!!!
?
Clearly you haven't seen face-to-face a Samsung D phone :) (or you are just a fanatic)
?
for samsung to roll out this phone at the high end is a joke!

Their mid range x640 and e530 clamshell has been upholding the samsung names very well but the D series just ain't good enough!
m
this is a modis phone,not like nokia so bulky and SE which is bad in clamshell design
too bulky maaannn..but good in PDAphone.i dont mind if it didnt have an xternal memory card cause i think 100MB is more than enough
P
I´m realy dont understand Samsung designers. 1.3 MP ,no card slots.... what a Crap phone.
p
hmmm whats with samsung, they dont like to put memory card slots do they?
H
This phone looks really nice from the small picture, and the features are ok :) I don't need the camera anyway.. if I'd want to take pictures somewhere I'd bring my camera.
I think this will be my new phone :-)
Total of 335 user reviews and opinions for Samsung D800.