Pure-bred dual SIM
Samsung D880 Duos review: Pure-bred dual SIM

User interface offers eye-candy
Samsung D880 Duos has interface with typical Samsung styling. The standby screen doesn't offer the Samsung dynamic Home screen with the uGo feature. All you can use is regular wallpaper. You can also opt to display Calendar or a single/dual zone clock.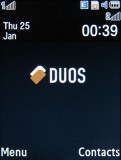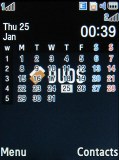 Home screen: regular and with calendar overlay
The main menu consists of a 4 x 3 grid of icons. They have a nice gradient background. You also have a choice of four graphic themes. The interface itself is amazingly responsive (obviously there's a capable processor behind all this) and there are nice graphical transitions when you move around the menus - the screens don't just appear, they slide in nicely instead.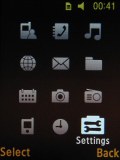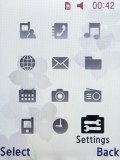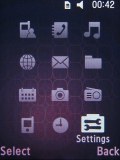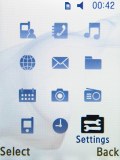 Some of the available main menu themes
Phonebook has a dual nature
The phonebook of Samsung D880 Duos can store up to 1000 contacts with multiple fields. You can set it to save your new contacts by default to either your phone memory, SIM 1 or SIM 2 (or of course get prompted every time). When displaying contacts however, you only have the following choices: phone memory, SIM memory (which means both SIM cards) or both Phone and SIM memory. Other than that, over 25 fields of information are available for each contact.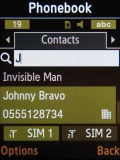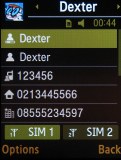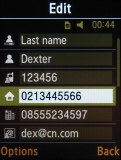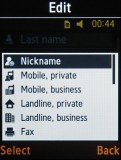 Phonebook: contacts list • editing a contact • adding custom fields
Telephony is excellent, loudness is below average
As expected, signal reception with the Samsung D880 Duos phone was excellent (on both SIM cards). A nice feature when dialing is the smart search. When you enter some digits, the handset offers you to choose from several contacts that contain them.
Here is how the Samsung D880 stacks up against some of the other handsets we've measured in our speakerphone loudness test. It is not anywhere near the loudest Samsungs we've had in our office, however it's surprisingly consistent in all the three tests.
You can find more info about our loudspeaker test, as well as the results of all other tested devices here.
| | | | | |
| --- | --- | --- | --- | --- |
| Speakerphone test | Voice, dB | Pink noise/ Music, dB | Ringing phone, dB | Overall score |
| Samsung D880 Duos | 66.2 | 65.0 | 66.0 | Below Average |
| Nokia 6500 slide | 74.2 | 72.8 | 78.2 | Very Good |
| Nokia N81 | 68.8 | 67.8 | 75.7 | Good |
| Samsung E250 | 71.9 | 64.7 | 69.8 | Average |
| Sony Ericsson W910 | 77.5 | 70.7 | 82.7 | Excellent |
| Apple iPhone | 67.2 | 60.2 | 66.6 | Below Average |
Messaging gets creative, but email fails on SSL
Samsung D880 Duos can handle SMS, MMS, and email. Naturally, a T9 dictionary is at hand and it does its job quickly and intuitively. Incoming messages, like calls, can be blocked based on a user-defined black list.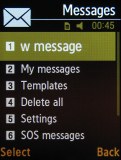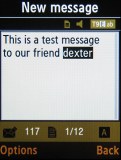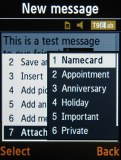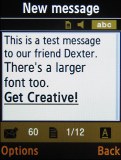 Messaging menu • typing a message • inserting attachments • changing font style and size
The email client is relatively good but it doesn't support SSL, so it's useless with providers that require it - like Gmail.
File manager is awkward
The Samsung D880 file browser is pretty much standard for Samsung handsets. There are 60MB of internal memory at your disposal. And of course you can always expand that thanks to the memory card slot.
There are folders for different types of files - images, video, music, sounds, which allow the handset to sort the memory contents. You can copy or move files freely and you can create and delete folders.
We were unpleasantly surprised by the fact that switching between phone memory and the memory card is quite uncommon - you should use the # and • keys for that - go figure! We've seen a similar solution with Motorola, but never with Samsung - at least in recent years.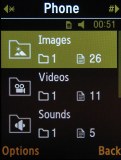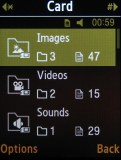 The file browser: switching between phone and memory card is ridiculous
The picture gallery is an inherent part of the file manager and not a separate application. Accessing it is as simple as opening the Images folder. You can view the pictures as a plain list or as a list with thumbnails. And again, you can sort files by date, type, name, and size. You can view pictures in both portrait and landscape. Again, thanks to the capable processor browsing and zooming images is a pleasure.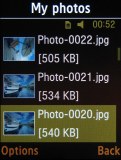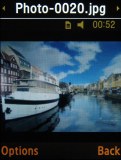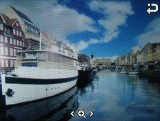 Camera photos • opening camera photos • viewing an image in portrait and landscape
Music player is rather inadequate
Samsung handsets usually excel in terms of music player capabilities (and audio quality too , we should add). With Samsung D880 Duos this is not the case unfortunately.
The Music player lacks the advanced track filtering found on most Samsung handsets (and Sony Ericsson units too for that matter) such as author, album, genre, recent, favorites or whatever. It falls back to the original dummy functionality seen way back in Samsung D900.
You can create your own playlists of course, but you better put your music in the auto-created Music folder on the memory card, otherwise adding tracks from another folder is too much hassle. Other Samsung handsets didn't have any problems auto updating their Music library with all the tracks you have on memory card no matter where they are stored.
The music player can be minimized to play in the background, but the current playing track doesn't show up on the standby screen so you can't control it freely.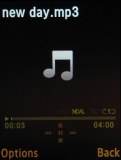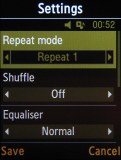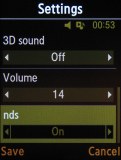 Music player • filtering tracks by artist • playing a track
The Samsung D880 comes complete with an FM radio. There is no support for RDS but, unlike the Music player, you can control the radio straight from the Home screen.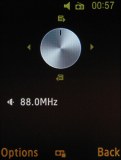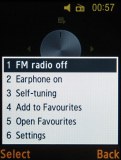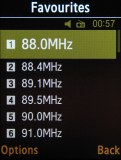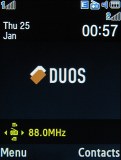 FM radio playing • some of the options • stored stations • FM radio controls on the home screen
The video player doesn't have many features but all the essentials are covered - it can play video files in fullscreen landscape mode and you can fast-forward and rewind videos.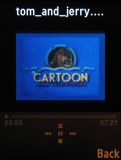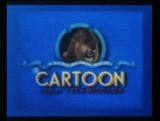 Playing a video in portrait and landscape mode
Judging on our experience Samsung know how to make a phone with good audio quality. Therefore it is no surprise that Samsung D880 Duos can easily outperform most of the devices out there in this area.
Even though it's got a basic music player, Samsung the D880 Duos scores very well on every audio quality reading. The only thing that is a bit out of order is the IMD level which is almost five times higher than the Samsung U600 for example. As you can see from the table however this number isn't really that much of an issue.
Anyway, the results are here for you to see and draw the conclusions. In case you want to learn more about our test, click here.
| | | | | | | |
| --- | --- | --- | --- | --- | --- | --- |
| Test | Frequency response | Noise level | Dynamic range | THD | IMD + Noise | Stereo crosstalk |
| Samsung D880 Duos | +0.34, -1.17 | -84.4 | 84.5 | 0.0030 | 0.087 | -85.2 |
| Apple iPod | +0.41, -1.16 | -91.6 | 91.8 | 0.0043 | 0.015 | -83.6 |
| Samsung U900 Soul | +0.29, -1.25 | -84.6 | 84.6 | 0.017 | 0.052 | -82.9 |
| Samsung U600 | +0.41, -1.12 | -89.2 | 86.5 | 0.0040 | 0.019 | -86.9 |
| Sony Ericsson K770 | +0.21, -1.04 | -85.7 | 88.8 | 0.014 | 0.030 | -84.8 |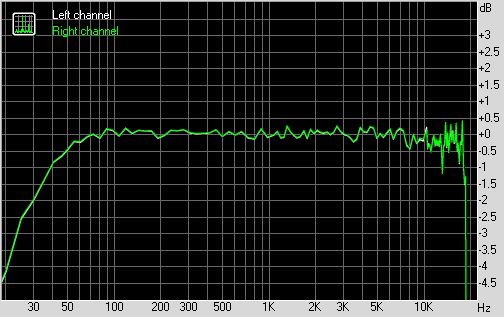 Samsung D880 frequency response graph