Samsung's 108MP ISOCELL Bright HMX sensor was announced in August and as the first phone to use is already on sale, the company published a post detailing the advanced features built into the sensor.
The ISOCELL name refers to a barrier that separates neighboring pixels, preventing crosstalk. The 108MP sensor is ISOCELL Plus, which swaps the metal barrier for a different material that minimizes optical loss and light reflection.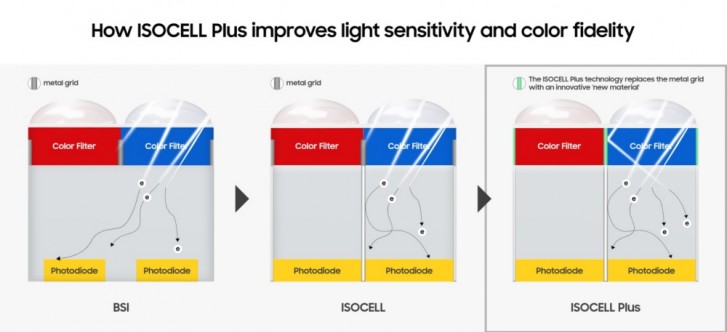 This is Samsung's first sensor to feature dual Native ISO, a feature the company calls Smart-ISO. Every sensor performs some level of analog amplification before turning the brightness reading from pixels into digital data. This is the native ISO.
Having two native ISO levels allows the sensor to better tune its light sensitivity for challenging light conditions. Essentially, the sensor can pick one amplification level for the highlights and one for the shadows.
This is a Quad Bayer sensor (Samsung calls it "Tetra Cell"), meaning a group of four pixels shares one color filter. This allows the image processing algorithms to merge four 0.8µm pixels into one 1.6µm pixel with superior light gathering ability. Even after the 4:1 conversion, the resulting image has pretty high resolution of 27MP.
In the daytime, the algorithms go the other way and rearrange the pixel data so that it results in a 108MP shot – this is the first mobile sensor to go north of 100MP. At 1/1.33", this is also one of the largest mobile sensors ever.
A different challenge is autofocus. Samsung's Super-PD feature promises a fast and accurate focus lock, even in the dark (PD stands for "phase detection").
PS. Samsung makes it very clear that the "phone" you see in the video is not a real device, so it's definitely not the Galaxy S11. The S11+ is rumored to feature a custom 108MP sensor with 9:1 Bayer filter (Nona Bayer?).
?
Yes. Because you are trolling over silly fanboy things automatically means I am too... And just because the don't sensors tend be a little better means that there others are not good at all or can't"squeeze quality". Let alone the fact Sony can't squ...
S
Yes you don't know what you are trolling. Sony sensors and devices can squeeze quality from their hardware a lot. Again, if you care and not being a troll!
?
And the need for high processing power is taken care by new advanced chipsets.
ADVERTISEMENTS