Samsung details the upgrades the Galaxy Note7 brings in an infographic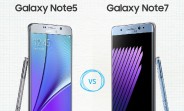 There are certainly those that will say that the brand new Galaxy Note7 isn't much of an upgrade over the outgoing Note5 and to counter those naysayers from day one Samsung has released an infographic detailing the differences between the two.
Conveniently, the key improvements have been highlighted in (non-coral) blue, and the list starts with the dual-edged display of the just-introduced model. Perhaps Samsung could have pointed out the Cat.9 LTE over the Note5's Cat.6 (450Mbps vs 300Mbps downlink), but hey, they have marketing teams to decide on that.
Of course, the IP68 certification for protection against the elements gets its dedicated section, and rightfully so. The list of highlights goes on with the Dual Pixel primary camera, microSD slot and USB Type-C port for wired connectivity. The Iris Scanner is duly mentioned too. You won't find an IR emitter though, not in the phone and not in the infographic.

D
Clearly you are a noteworthy Samsung fan, evidenced by jumping ship between S series and Note (or the other way around as you described it..) meaning you don't need the Spen. Which means you don't need a Note. Cause S lineup is at parity for most f...
D
i waited note 4 many generations and phones after note 2 (s4 s5 note 3 and other companies phones) but it worth it i am currently have 5 battery with my note 4 and 3 battery charger i never ever put phone on charge when i am on long trip i...
D
exactly my friend i mean they say it support 256 gb micro sd like a innovation or new features but when note 4 came out it says 64 gb micro sdxc supported because there are no 128 gb micro sd cards but then i buy 128 gb one from sandisk and used...