Samsung Display acquires license to trade with Huawei, but that may not be enough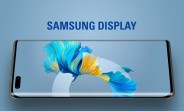 Starting on September 15 Huawei was cut off from Samsung Display and LG Display, which supply a fraction of the panels used in the new Mate 40 Pro model. Now Reuters and The Elec report that Samsung Display has successfully acquired a license to sell certain panels to the Chinese company.
However, that's not the only hurdle – it's still not clear if Samsung can actually start shipping displays to Huawei because the US requires all companies involved in the supply chain need a license from the US.
The issue appears to be centered around the driver and touch ICs used for the displays, those are designed by ARM. However, neither Samsung nor Huawei has officially commented on this matter.

LG Display and SK Hynix (a maker of RAM and flash chips) are yet to receive a license and so is Samsung Electronics (the parent company of Samsung Display). In the mean time Huawei can source panels from BOE, a rising display maker in China.
Qualcomm applied for a license to trade with Huawei, but it hasn't received it yet. Microsoft, Intel and AMD already have one (which is good news for the company's laptop business, though it doesn't do much for its smartphones).
p
its a rhetorical question you know that right?
ADVERTISEMENTS