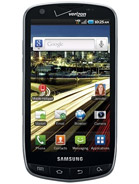 v
Seriously man , this phone will be the one of the best phone version have .. Please Please release this in GSM as well ...
j
Why doesn't Samsung release a big phone with basic features....there would be a big market for that also


?
can a user update it manually? or the user must go the service service center to upgrade the phone?
M
man... Verizon always get the better exclusive phones, that sucks man! Only if they operated with SIM cards then i had switch
a
I'm the 4th ...ha..ha. The processor is a 1GHZ single core. RAM was not confirmed to me, but I will do my best to find out today! I will also have more video posted, so if you didn't already, please subscribe. Thanks!Alin Neacsu Romania
s
None of these fancy specs will matter IF Samsung doesn't get their butts in gear and STOP the crap that is going on with ALL the US Samsung Galaxy S phones that are ALREADY waiting for months now with NO FROYO updates. This is AN AWEFUL stain ON AN OTHERWISE GREAT PRODUCT! ( the VIBRANT, FASCINATE, EPIC, CAPTIVATE) ALL STILL FORCED TO RUN ANDROID 2.1 INSTEAD OF FROYO 2.2 WHICH HAS BEEN OUT FOR 8 MONTHS NOW!
i HAVE OWNED THE ePIC NOW FOR ALMOST 4 MONTHS and Froyo has been available for OVER 8 months and NOW we find out that Samsung is deliberately making their loyal consumers suffer and wait UNNECESSARILY due to some political crap between Samsung and the carriers not wanting to pay them for
Androids being updated. THIS IS JUST UNACCEPTABLE and WE the consumers are suffering with 2 year contracts on devices we aren't even able to FULLY enjoy all of the capabilities of (such as Flash 10,1) among other things! WTH!!!!! SAMSUNG GET THE MOLASSES OUT OF YOUR a***!!!!
This Is Why Your Galaxy S Phones Haven't Updated Past 2.1 [In Brief] - http://pulsene.ws/N02E
Total of 73 user reviews and opinions for Samsung Droid Charge I510.