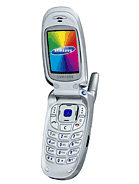 j
Great phone except for one defect... u cannot set personel melodies for groups... :( If anybody knows how to do it please send me an e-mail or reply to this posting please... Thanks in advance
f
is this phone slow?i bought 6610 but its menus are too slow.i write message quick but words come after me(2 seconds after).i never use samsung please tell me are they fast?if its i ll buy one.
r
by the way, i've got this model since the beginning of 2004 and it's really great... the only thing bothering me is that I can't find downloadable games for it
r
the info about the E100 is wrong, there is a little detail diffrent from the perscription, namely: it has an infrared port. you can even see that on the picture, it's on the right side.
?
Hi, I have this model since 2 week, and it works very fine. The screen is the best I ever see! And the sound quality is very very good
?
wow, i'm the second. why don't anyone post for this model.. how is it..
Total of 53 user reviews and opinions for Samsung E100.