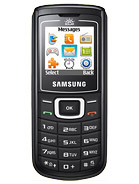 F
phytos, 11 Jun 2009and how exactly does samsung want us to put mp3 ringtones at least on this phone which has NO ... moreRelax dude, relax, read the specs carefully, it doesn't support MP3. Samsung wasted your time and mine, LOL
F
What the hell were samsung thinking? This is like an embarassment the ultimate samsung fones and what kind of name is Crest Solar?? Come on samsung, you can do better than this
m
this may be is an experimental phone. if its good theyl improve it (put more specs) if not then discontinue. every thing starts at basic and worthless, well we dont know... this may be a step to a new era of phone ahahahahahha. come on think positive on samsung a bit. hahahahaha....... XD
m
i thingk this phone is only made to do the basic things like texting! this may fit on philippino people because filipino text 12 to 18 hours a day and other phones with short battery life wont make it. so i thing the solar thing or what ever they call it will help and keep up the battery life a little bit longer, maybe... hoping that the phone wont break out very easy and wishing that it wont melt under the sourging heat of the sun. XD
p
and how exactly does samsung want us to put mp3 ringtones at least on this phone which has NO CONNECTIVITY at all.no usb no bluetooth no infrared nothing.and suppose we can in a weird magical way,what is the memory availavle? 2 mb? like the previous versions? its rediculous!!
?
first but the worst.

samsung just wants the title to be first. haha.
s
hai, you can charge the phone using the standard electricity charger, and the talk time will be around 3.5 hours, only for solar charging the talk time is upto 10 mins(just for emergency purpose)
?
This is some kind of a joke right?!Better performance solar batteries are invented so what is this charging 1h talk time 10 min?
s
Might have weak feautures but its the first solar power phone.Solar power hmmmmmm good phone.
Total of 93 user reviews and opinions for Samsung E1107 Crest Solar.