Samsung launched a solar powered phone but not the one you're thinking of. While we're waiting for the Blue Earth phone, the solar pioneer will be a low-end handset - the Samsung E1107 Solar Guru.
The Samsung E1107, known as Solar Guru or Crest Solar depending on region, is the first solar-powered phone to make its way to the market. The Blue Earth, which was announced back in February is admittedly more exciting but we'll have to wait some more (here's to hoping it's not just vapor ware).
Now before you throw your conventional charger in the bin we should clarify what "solar powered" actually means. 1 hour of solar charging gives you 5 to 10 minutes of talk time (depending on lighting conditions). That alone won't eradicate the need for charging from time to time but if you're in a area where electricity is not guaranteed (say, while camping) this could be a very valuable feature.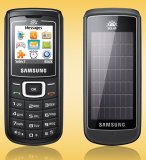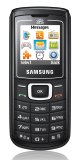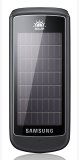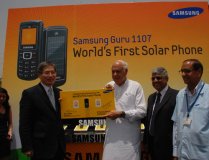 Samsung E1107 Solar Guru (aka Crest Solar)
Aside from that, the Solar Guru seems to be based on the Samsung E1100 but with added FM Radio. The other specs are dual-band GSM, 1.52" 65K CSTN display, MP3 ringtones, flashlight, Mobile Tracker and a 800 mAh battery.
The phone will cost $59 and is already available in India. It will also be launched in Europe, southeast and southwest Asia and Latin America latter this month.
m
my favarite mobile samsung E1107 i am prasent using mobile
?
i am suggesting if it is possible to extend the talk time at 1hr for the next solar model......
ADVERTISEMENTS