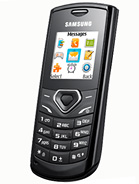 T
Exelent phone , good audio , very good batery , buit in quality .....kick as phone for the money ...
c
can anybody give an idea, what's the 16MB internal memory are for??? ain't for mp3 ringtones?
?
shehroz, 13 May 2010what the heellll is this?? looks like a cheap version of shark2...Actually launched in the Philippines as part of the shark series. Really cheap at SRP of P1,750 (37 USD).
S
As being a person who don't need any camera, who hates trying to surf over the internet via a small screen, who only uses the cell phone as a phone; this is just for my taste. My Nokia 1200 just broken down (test mode error) so I am looking forward to buy one of these. (I also have 2 Nokia 3100 and one other Samsung)

If I can find this phone in the stores, I will let you to know about its features and performance.
S
In the Philippines. You can get this cheap & out of dated feature cellphone for free if you avail a citibank credit card on line. Worth 1,290-1500pesos
a
gingminge it doesnt have bluetooth at all!
s
For its price of Rs.1400/- it is sure a great deal. This phone also feature a new profile called Bike mode which alerts only pre-defined numbers. others get a caller busy tone.
s
what the heellll is this?? looks like a cheap version of shark2...
g
this phone is useless the bluetooth is blocked only for headset . battery life is only 1 day . the rigtones are vile .
p
thats a lot of "NO" on its specs sheet :)
Total of 90 user reviews and opinions for Samsung E1170.