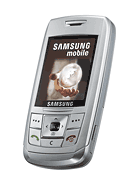 A
All greetings. I from Russia. Has bought to itself this phone because it is stylishly looked, and that that it should important, it is beautiful phone!
j
this phone has same software as D900 like U menu,size plus fm radio,priced less than half of D900
m
yes,another low & phone,this time by samsung,but you know what,for me it's an good looking phone,thin & afordable I think it's preety ok & I actualy look forward to buy one of these to upgrade my k500i
L
Well I think its a real nice looking phone. Thin too, Not everyone is that bothered about camera, Good Phone. I'd get one.
D
In regard to those previous comments, not everyone can afford a phone with lots of features.

Samsung is just filling a gap in the market
d
They're being really smart about this... Nokia's focus has been on the top end... and at the end of it the entire N series is being competed by TWO handsets each from SonyEricsson and Samsung... SE W850i & K800i and the Samsung E900 and D900... You'll notice that Sony have started updating their lower end too... tho SE are trying to keep all the features there... Nokia are left with the 1110 and 2600 for low-end handsets...
?
aactualy it's not realy that "low end" ...i think it's got all tre important features..if the price is "low end" ... than it's even better
F
No, no, no, Samsung is going the wrong way! What's with all the VGA Cameras and hardly any features?
Total of 3793 user reviews and opinions for Samsung E250.