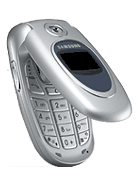 u
OMG! this phone looks alot like the E330 even though this might be the "upgraded" version. Look at the bad spec!!!
a
tis phone does not haf Infre red, no bluetooth, external screen is a mono color. wat can i say?
no one's gonna buy such a phone!

samsung, u can do better den tat!! like Z500!!!!!! however, if Z500 could be smaller, it would be perfect. currently waiting for Z500 to come out.
Total of 162 user reviews and opinions for Samsung E340.