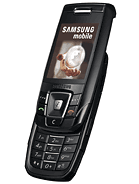 m
it is a verygood shape i like it very much i am thinking about it to purchase it from the Market. so it is very good mobiles and it is a very good set.
s
does anyone know if this will be on sale before christmas? lets hope it has high-end samsung features i.e. vibrate/ring function and a permanent t9 off feature (problems that drive me nuts with my current samsung phone).
M
FFS, when will Samsung get over this tired, boring design? They have so many phones that look *exactly* the same! Do they actually employ designers at Samsung? Samsung seem to be doing everything in their power to make their products about as unappealing as possible. The X520 looks nice, but is total bottom end!
s
sam i was on this site because i like to see some innovation from mobile manufacturers,but the stream of mediocre phones that are no better than their peers seem to be endlessly churned out, but as im sure you can read it says post your opinion, which last time i looked was still a right of the great british people and it is my opinion and at the end of the day who is to say their view is better than anybody elses.
s
simon who ever you are if you dont like samsungs then why are you on this site and oh yeh i like it
s
another sliding phone excactly the same as many other samsungs ,now theres something you dont see very often oops sorry yes you do.
m
OH WOW......a Samsung black slider,how novel and different,samsung should have come up with somnething like this years ago!
K
Just about to say the same thing as Richard below.I wont forget when MOTO came out with W220 how many of the SAMSUNG fan come n bash tht design n now SAMSUNG is doing the same thing. LOL
R
and people hate motorola for recycling RAZR? samsung has created 200 phones from the same tired design.
g
it has very good features, samsung should do better phones than this????,
suggestion: when you click on pictures to see the phone very close, it shows the samsung x520, i think you guys switch pictures.
?
GSMArena, just to inform you, the link to view an enlarged image of the picture on this page opens the X520. Its apparently swapped.
?
the phone it's a slider on specification..but when i click on pictures anoteher phone shows..wich one is wich
Total of 115 user reviews and opinions for Samsung E390.